'Brooklyn Nine-Nine' Celebrates Halloween in New Heist Episode
The first Halloween episode of 2020 premieres tonight (4/9/20), as Brooklyn Nine-Nine is giving us a new Halloween Heist episode!
Brooklyn Nine-Nine never disappoints when it comes to their (mostly) annual Halloween episodes, which always feature a wild, fast paced, unpredictable heist game among the show's main characters.
Melissa Fumero, who plays Amy Santiago on the show, shared a photo of her in a pumpkin costume on Instagram today, suggesting that tonight's episode will technically be a flashback to Halloween 2019, which the series skipped over during a recent six-month time jump (or it could be a flash forward to Halloween 2020). The title of the episode, however, is "Valloweaster", which could mean that the heist(s?) takes place over not just Halloween, but also Valentine's Day and Easter.
In any case, we're in for some awesome Halloween high jinks at my favorite police precinct.
The episode premieres tonight (Thursday), April 9, at 8:30 p.m. on NBC.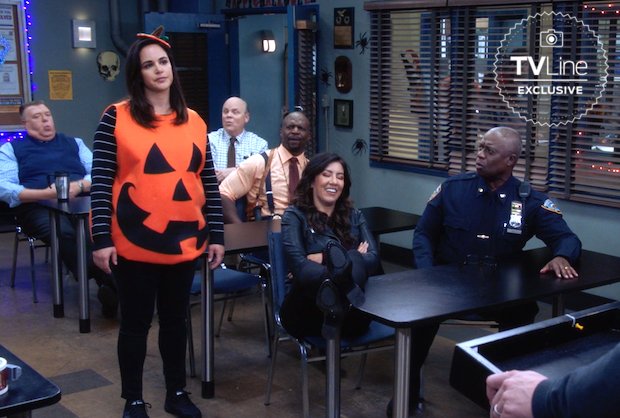 Has anyone convinced you yet? pic.twitter.com/KbW8BtiGTJ

— Brooklyn Nine-Nine (@nbcbrooklyn99) April 9, 2020
For more Halloween news, follow @HalloweenDaily.