The Maestro Animatronic Strings Up Little Daisy at Spirit Halloween
Spirit Halloween continues to unveil their new products for the 2020 Halloween season, today revealing the fifth new animatronic of the year and the most impressive yet, the life-size "Little Daisy and The Maestro," a mad conductor who has a little girl strung up like a puppet.
They toured the world and the Maestro got rich, but it was not enough. The crowds got bigger and bigger, but all they wanted was to see Little Daisy. One night after a third encore, The Maestro snapped. In a fit of jealousy, he made a deal with a demon to be more famous than Little Daisy, but in a cruel twist, the demon turned him into a mad puppeteer. Now he is driven mad nightly by the endless applause for his Little Daisy.
Little Daisy and the Maestro features red glowing eyes for a terrifying scare. The Maestro's arms move up and down while his mouth moves with his terrifying phrases.
His sayings include:
"She never sleeps, she never speaks, but she knows how to haunt you. It seems I've trained her very, very well."*Creepy laugh*
"Want to be a part of my act? I'll get you in my grips and you'll do whatever I say. Come on it'll be fun. *Girl crying in background*
Standing 6 feet tall and expected to ship on or before Sept. 16, you can order TLittle Daisy and The Maestro for $299.99 here.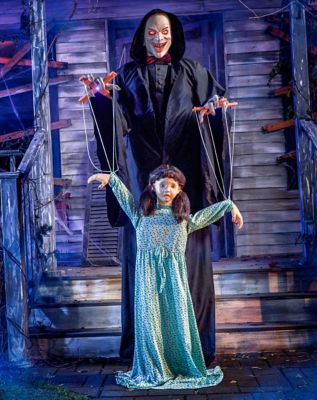 Check him out in action in the video below!
*Paid links: We may earn a commission from purchases made through links in this article, which helps support the continued operation of Halloween Daily News.
For more Halloween news, follow @HalloweenDaily.