Take a Peek at Spirit Halloween's New Creepy Clown Animatronic
Spirit Halloween continues to unveil their new products for the 2020 Halloween season, yesterday revealing the fourth new animatronic of the year, the life-size "Peek-A-Boo" clown.
No one knows his real name or what circus brought him to town. Some stories say he got those ghastly scars from the Strongman after playing peek-a-boo with his wife. When the sun dips low, you can find him standing outside the grocery store, car dealership, or liquor store begging for a game of hide and seek. It's usually harmless . . . unless he catches you!
This Peek-A-Boo Animatronic begins in a hunched over position hiding his face before making creepy sounds and opening his arms to stand upright and reveal his terrifying eyes.
His sayings include:
"Haha Peek-a-boo, peek-a-BOO! I just love that game, particularly with crying little babies. Haha! I'm ready to play again."
"Where did everyone go? I can't see… I can't see! Because I had my eyes closed, blah, but I'll keep them open to see where you run to. You can run, but you can't hide."
"Oh, Halloween is so frightening. I can't bare to watch scary things. I'm such a sensitive soul, blah. Perhaps you will come close and keep away the boogie man."
"I just love hide and seek! One…Two…Two and a half… Ready or not here I come, haha! There's nowhere to hide on Halloween night. We're all out to get you."
Standing 6 feet tall and expected to ship on or before Aug. 14, you can order Peek-A-Boo for $219.99 here.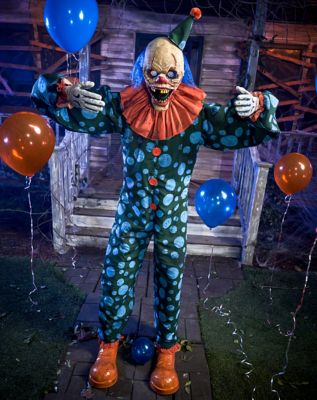 Check him out in action in the video below!
*Paid links: We may earn a commission from purchases made through links in this article, which helps support the continued operation of Halloween Daily News.
For more Halloween news, follow @HalloweenDaily.