Spirit Halloween Reveals New Vampire Animatronic 2020 Bonus Release
For the first time, Spirit Halloween has unveiled a surprise post-Halloween bonus release for 2020, today revealing a brand new life-size vampire animatronic named Lord Dakhanavar, currently available to order online.
Lord Dakhanavar bides time waiting for the resurgence of his family's power and to once again reign over The Land Beyond the Forrest.  As he patiently waits to regain his seat of power, he takes solace with the few travelers that visit his humble manor to assist him with the family business. Their long journey leaves them feeling drained and dead tired, and they often find themselves staying with their host overnight… or if he's lucky… forever.
At 4.8 feet tall, this Nosferatu-like vampire animatronic hangs from the ceiling and will send chills down your spine with its red light-up eyes, moving mouth, and lifting head. The prop includes a hook for convenient hanging, though a mount (not included) will likely be required to hang it from your ceiling.
Motion activated, his sayings include:
"No…Step back. Wait. No, no. Come closer…Much closer. Let me breathe in your blood." *deep inhale followed by evil laughter.*
"Arghh, I need nourishment…I must feast! And the only blood I smell is yours." *deep evil chuckling laugh.*
"Noooo… you should not have come here. Now I will follow you 'til you give me what I need… BLOOD!" *deep evil chuckling laugh.*
"Arghh! Come… let me listen to your heartbeat. (Ooohhh) so strong, so alive, it will be mine" *deep evil chuckling laugh.*
Now shipping, you can order the Lord Dakhanavar vampire animatronic for $179.99 here.
Watch him in action in the videos below.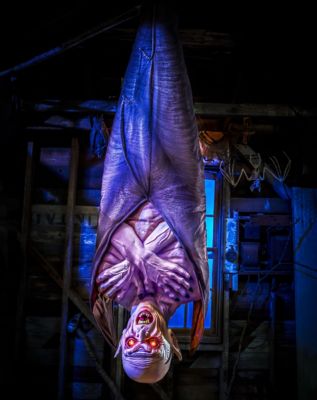 *Paid links: We may earn a commission from purchases made through links in this article, which helps support the continued operation of Halloween Daily News.
For more Halloween news, follow @HalloweenDaily.