Your Halloween Holiday 2020 Gift Guide
Behold, our annual list of the ultimate Holiday gift recommendations for the Halloween fanatic in your life, that person who lives and breathes the Halloween lifestyle every day of the year!
Read on for our top picks of the hottest Halloween releases of 2020, all of which you still have just enough time to order and get under the tree.
MASKS
Halloween 1978 "The Boogeyman" Michael Myers Mask – Formerly released as the Halloween II "Elrod Mask", this is Trick or Treat Studios' exact replica of the Myers mask as seen in finale of the 1978 film, after Laurie Strode as stabbed him in the neck. Sculpted by Justin Mabry, the Boogeyman mask includes the sewing needle stab wound and no slit in the mouth. Priced at $59.99, you can buy it here.
Trick 'r Treat Halloween School Bus Massacre Masks – This year saw the release of the first ever face masks of three of the kids from the iconic Halloween School Bus Massacre segment of the 2009 film. Priced at $12.99 each and available exclusively from Spirit Halloween, you can buy the Clown mask here, buy the Skeleton mask here, and buy the Bunny mask here.
Scooby-Doo The Creeper Mask – Trick or Treat Studios and Hanna-Barbera present the officially licensed Scooby-Doo villain The Creeper mask. As originally introduced, The Creeper was the disguise of Mr. Carswell, a bank president, in the classic 1970 Scooby-Doo, Where Are You? Season 2 episode "Jeepers, It's The Creeper"​​​​. Sculpted by Justin Mabry and priced at $49.99, you can buy it here.
COLLECTIBLES
Halloween II Laurie Strode and Dr. Loomis Figures – Featuring the officially authorized likenesses of Donald Pleasence and Jamie Lee Curtis, Neca's Halloween II two-pack of Dr. Loomis and Laurie Strode figures joined the retro-styled clothed action figure line. You can buy it on Amazon here.
Halloween III Sliver Shamrock Trick or Treater Figures – For the first time, Halloween III: Season of the Witch collectible figures were released in a three-pack from Neca, featuring three trick or treaters wearing each of the Silver Shamrock masks. You can buy it on Amazon here.
Halloween 1978 Michael Myers 1/6 Scale Figure – Trick or Treat Studios entered the collectible action figures arena in 2020 with their first release, the 1/6 scale Halloween 1978 12-inch clothed Michael Myers. Priced at $119.99, you can buy it here.
Hocus Pocus Billy Butcherson Funko Pop! Figure – The real star of Disney's 1993 family Halloween classic got his own Pop! vinyl figure from Funko this year. Priced at $12.99 and available exclusively from Spirit Halloween, you can buy it here.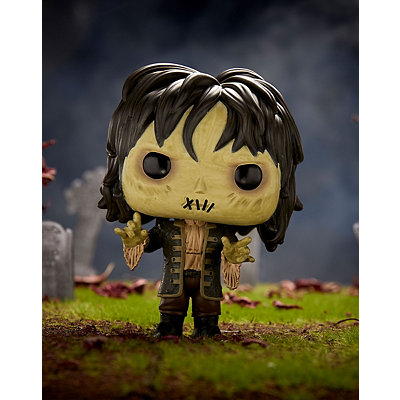 Michael Myers' Ghost Bobble-Head – Available exclusively from Hot Topic, this "Michael Myers' Ghost" bobble is one of the coolest releases of the year, and while it's currently (as of this writing) on backorder online, you may be able to find one at a physical store if you're venturing out and are lucky.
BOOKS
Trick 'r Treat Omnibus Graphic Novel Collection – All of Sam's comic book stories are now in one place in the new Trick 'r Treat omnibus collection, uniting for the first time ever the previously released graphic novel adaptation of the feature film and the Days of the Dead anthology graphic novel that reveals the more stories of Sam on other Halloweens not depicted in the film. This beautiful hard cover edition features a new introduction from creator and director Michael Dougherty, plus new cover art. Priced at $29.95, you can buy it on Amazon here.
The Year Without Halloween – Award-winning writer Shane Bitterling published his first children's picture book, The Year Without Halloween, a 31-page paperback, which oozes with holiday traditions and the theme of making the best of what you have to overcome the hardships of celebrating Halloween amid a pandemic in 2020. Priced at $13, you can buy it here.
Ghost Squad – Soon to be a feature film, author Claribel Ortega's young adult novel Ghost Squad, follows the story of Lucely and her best friend, Syd, two outcast kids living in the famously old St. Augustine, Florida. In efforts to right a past wrong-doing, the pair casts a spell that accidentally awakens malicious spirits right before Halloween. Together, they must join forces with Syd's witchy grandmother, Babette, and her tubby tabby, Chunk, to fight the haunting head-on and reverse the curse to save the town – and Lucely's firefly ancestors – before it's too late. Priced at $14.39, you can buy it on Amazon here.
MUSIC
Rob Zombie's Halloween and Halloween II Vinyl Soundtracks – The complete original soundtracks to Rob Zombie's Halloween (2007) and Halloween II (2009) were released for the first time ever on vinyl this year from Waxwork Records. You can buy the Halloween 2007 soundtrack on vinyl for $45 here and buy the Halloween II 2009 soundtrack on vinyl for $35 here.
4K ULTRA HD
Hocus Pocus 4K – Disney's 1992 family Halloween classic was released on 4K, also including a Blu-ray disc and digital code, in September. You  can buy it for $22.99 from Target here, or get the exclusive Steelbook edition for $27.99 from Best Buy here.
So what's on your Halloween Holiday wish list this year?
*Paid links: We may earn a commission from qualifying purchases.
For more Halloween news, follow @HalloweenDaily.