'Batman: The Long Halloween Part One' Voice Cast Revealed
Among the most anticipated Halloween movies coming in 2021 is definitely Batman: The Long Halloween Part One, the first in the two-part animated feature film adaptation of the classic mid-1990s comic book story, and the full voice cast has just been revealed.
Jensen Ackles (Supernatural, My Bloody Valentine 2009) leads the cast as Batman/Bruce Wayne, along with Naya Rivera, the late Glee star who died in July of 2020 after already completing her voice work as Catwoman/Selina Kyle.
The voice cast also includes Josh Duhamel as Harvey Dent, Billy Burke as James Gordon, Titus Welliver as Carmine Falcone, David Dastmalchian (The Suicide Squad) as Calendar Man, Troy Baker as Joker, Amy Landecker as Barbara Gordon, Julie Nathanson as Gilda Dent, Jack Quaid (Scream) as Alberto, Fred Tatasciore as Solomon Grundy, and Alastair Duncan as Alfred, according to The Hollywood Reporter.
Chris Palmer (Superman: Man of Tomorrow) is directing from a script that reteams him with Man of Tomorrow screenwriter Tim Sheridan.
The Motion Picture Association has rated Batman: The Long Halloween Part One PG-13 for "violence, bloody images, language, and some smoking."
Originally published in 1996-1997, the original 13-issue comic book story The Long Halloween, by Jeph Loeb and Tim Sale, follows a killer named Holiday who murders people on every holiday for a year, from Halloween to the next Halloween, and it also features many of Batman's iconic villains as he investigates the murders over the course of a year.
There has also been much speculation that director Matt Reeves' live action The Batman will be a loose adaptation of The Long Halloween, which you can read more about here.
Warner Bros. is releasing four DC Universe animated films this year, the first of which, Batman: Soul of the Dragon, was released in January. Next up will be Justice Society: World War II on April 27, followed by The Long Halloween Part One this summer and Part Two to follow his fall.
Keep watching this site for a release date and more on Batman: The Long Halloween in the coming weeks.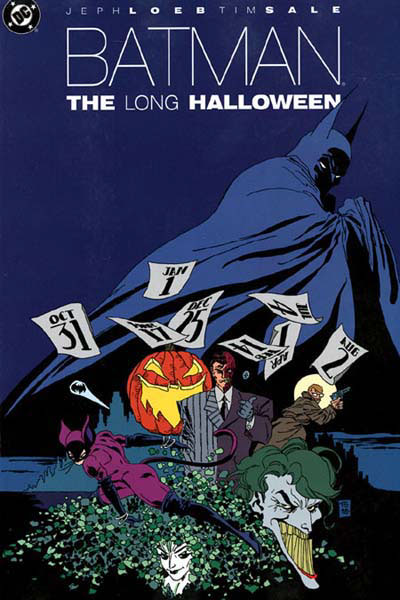 For more Halloween news, follow @HalloweenDaily.