New 6 Ft. W.Raith Animatronic Haunts Spirit Halloween in 2021
First teased in the Graveyard Shift trailer, Spirit Halloween has revealed a haunting new for 2021 animatronic called W.Raith.
When the Empress Hotel opened, it only took one night for the guests to come shrieking out of their rooms. W. Raith checked in for the weekend after a tough week to cut loose, but it looks like he had one too many cocktails during the grand opening reception because poor Mr. Raith ended up impaled on the hand-forged wrought iron gates below his suite's balcony. Despite the opulence and splendor, the Empress hotel closed a few weeks later. You can hardly blame the guests, though, who wants to stay in a hotel where every night you are serenaded by the moans of a desperate specter trapped for eternity in a crumbling hotel.
Standing 6 feet tall, the W.Raith animatronic features a floating motion with glowing white LEDs and ghostly moans.
Expected to ship on or before Aug. 31, you can order W.Raith for $169.99 here.
See all of our Spirit Halloween 2021 coverage here!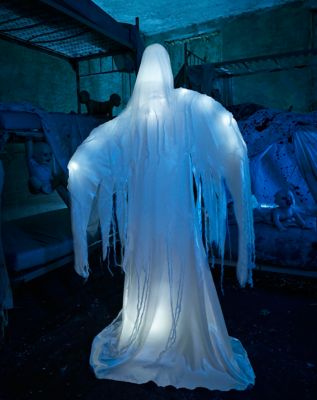 Check him out in action in the video below!
*Paid links: We may earn a commission from purchases made through links in this article, which helps support the continued operation of Halloween Daily News.
For more Halloween news, follow @HalloweenDaily.