John Carpenter's 'Tales for a HalloweeNight Vol. 7' Trailer Features Michael Myers!
Storm King Productions has released an official trailer for John Carpenter's Tales for a HalloweeNight Volume 7, featuring a first look at new art, including appearances of Carpenter himself, along with his wife and Tales publisher Sandy King Carpenter, and even Michael Myers(!).
Following the cover art reveal and release date announcement over the weekend, an official trailer for this year's graphic novel anthology issue was released on Wednesday, previewing much of the new art, including an image of John Carpenter, who is also featured on the cover, with his wife, publisher and producer Sandy King Carpenter. In another image, Michael Myers (or at least someone dressed up in a Michael Myers costume) is at a Halloween party.
It's unknown at this point if it's just a cool Easter egg reference or if there is a story involving Myers, but in any case, it is pretty awesome to see The Shape appearing in yet another of Carpenter's works in an entirely different medium. And, really, if ever there was a perfect home for future graphic novel comic books based on the Halloween movie franchise, it is absolutely Storm King Productions.
The new trailer uses the Halloween theme music, but that is also the music used every year for the annual trailer.
The official synopsis: From the mind of John Carpenter, the man who brought you the classic horror film Halloween and all of the scares beyond, and the heart of writer, editor, producer Sandy King, comes a baker's dozen of twisted tales of terror, tricks, and treats. In Volume 7 of the award-winning graphic novel series, Carpenter and King bring together the best storytellers from movies, novels, and comics for another spine-tingling collection of stories that will haunt you. Each story is a standalone surprise that captures the essence of the best night of the year. We dare you to read it all the way to the end. If you get too scared, remember, it's only a comic. It's only a comic… or is it? Happy Halloween!
Volume 7 Writers: John Carpenter, Sandy King, Elena Carrillo, Amanda Deibert, Alec Worley, Anthony Burch, Tim Bradstreet, Sean Sobczak, Kealan Patrick Burke, Neo Edmund, David J. Schow, Frank Tieri, Duane Swierczynski, and Mike Sizemore
Volume 7 Artists: Jaime Carrillo, Luis Guaragna, Sian Mandrake, Cat Staggs, Ben Willsher, Richard P. Clark, Tim Bradstreet, Andy Price, Damien Worm, Jan Duursema, Gus Vazquez, Ross Campbell, Andrea Mutti, Vladimir Popov, Dave Kennedy, Pete Kennedy, and Nick Percival
The Halloween-set horror anthology series comes from the mind of John Carpenter and the heart of writer, editor, producer Sandy King. Each volume contains about a dozen different stories.
The first Tales for a HalloweeNight graphic novel collection was released in October of 2015, and has been followed each year since with a new volume.
The Tales for a HalloweenNight Volumes 7 will be released on September 22.
You can see the official cover art by Tim Bradstreet and watch the new trailer featuring the Carpenters and Michael Myers below.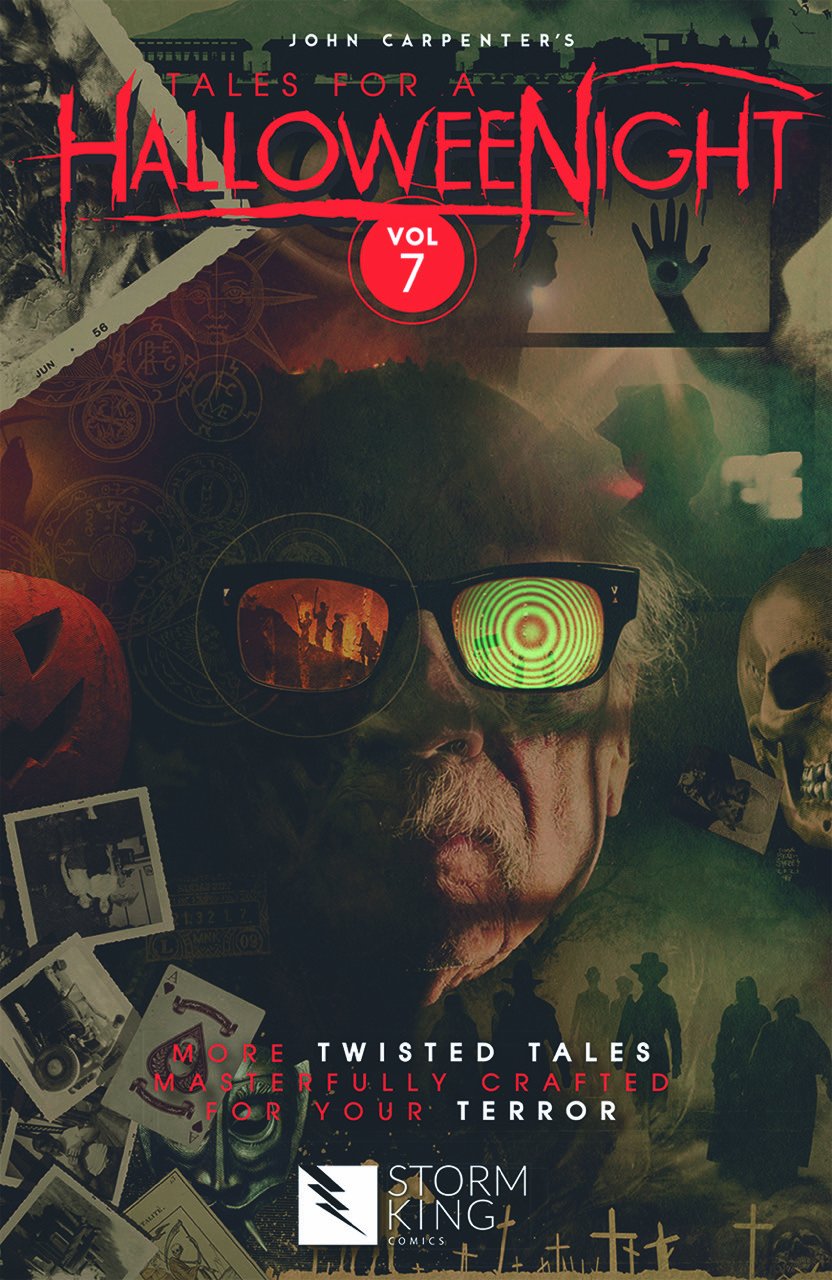 For more Halloween news, follow @HalloweenDaily.