Spirit Halloween Debuts 4 More New 2021 Animatronics
Spirit Halloween celebrated Friday the 13th today by officially revealing four more new for 2021 animatronics, all of which are now available to order online.
First teased in the Graveyard Shift trailer, these "new hires" got their own screen time in a brand new second Graveyard Shift trailer, which you can see belong, along with official demo videos for each.
Mr. Dark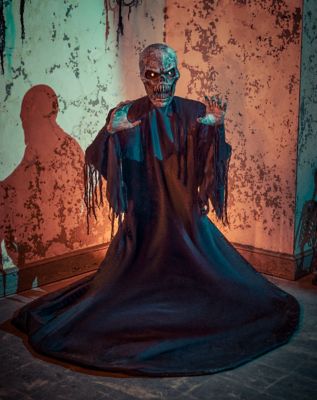 Mr. Dark is waiting. He always is waiting. He's tucked away in the shadowy corners of a room, patiently crouched in the midnight of a long alley or shrouded in parts of your mind you are afraid of when you fall asleep. Mr. Dark is there biding his time and growing bigger every minute, feeding on your fear, anxiety, wicked thoughts, and growing stronger each minute. Then before you know it, his evil darkness has enveloped you and your soul. Don't blink because it's already happening to you!
Featuring light-up red LED eyes, the built-in scissor mechanism shoots Mr. Dark up from it's crouched 4.5 feet to a towering nine feet tall.
Expected to ship on or before Sept. 30, you can order Mr. Dark for $249.99 here.
Harriet Hustle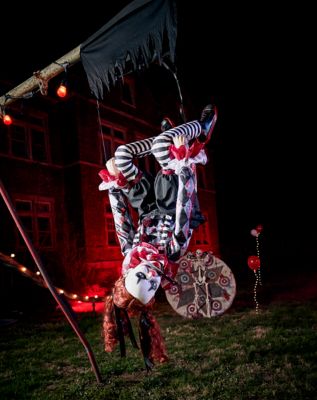 The daughter of the previously released Henry Hustle, Harriet is always hanging around waiting for her next victim . . . I mean mark. She learned all her skills for clowning and conning from her dear old dad Henry, but when mom split with the ringmaster, times got tough, and her talent as a knife thrower took on a whole new side hustle. Now she lifts wallets while dad has you distracted. Just don't accuse either of cheating, or you will end up dealing the next hand six feet under.
At 3.8 feet tall, this animatronic swings back and forth and swivels her head around looking for her next victim.
Expected to begin shipping on or before Sept. 30, you can order Harriet Hustle for $179.99 here.
Ophelia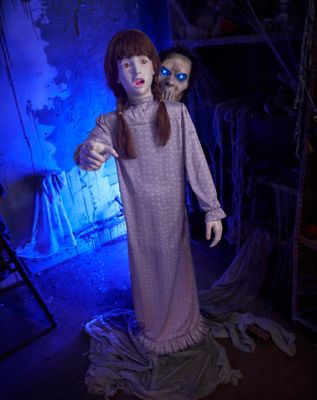 Ophelia never once made a sound. When she was born, the room was dead quiet even when they cut the cord. As she grew, she never had a first word, and then bad things started happening around the house. Her sister's toys went missing, lamps mysteriously were broken, and then the neighbor's cat went missing. It's not her fault, though, because she was born possessed by one of Hell's minions who stole her voice and is till she is strong enough to lead her own army of demons!
At five fee tall, she features light-up blue eyes and taunting phrases, as the menacing demon behind her sways back and forth while her eyes move in fear waiting for it to strike.
Expected to begin shipping on or before Sept. 30, you can order Ophelia for $159.99 here.
Grave Grabber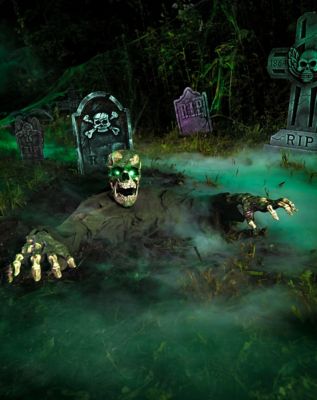 Trying to come back to life as an undead zombie, the Grave Grabber has been scratching and clawing his way to the surface for years. One cold and stormy night, the elements were in his favor and he was finally able to breakthrough and emerge. Now he lives his life patrolling the cemetery and grabbing at the ankles of any unwanted visitors. What he does after to get a hold of his victims remains a mystery, because those who have been unfortunate enough to see him were never heard from or seen again.
Expected to begin shipping on or before Sept. 30, you can order the Grave Grabber for $119.99 here.
See all of our Spirit Halloween 2021 coverage here!
*Paid links: We may earn a commission from purchases made through links in this article, which helps support the continued operation of Halloween Daily News.
For more Halloween news, follow @HalloweenDaily.