Towering Baphomet Animatronic Arrives at Spirit Halloween for 2021
Spirit Halloween has officially unveiled another new for 2021 animatronic, the towering medieval soul taker called Baphomet.
During the middle ages, summoned during the first witches' Sabbath, Baphomet appeared in a burst of green flames and sulfur smoke. Armed with a scythe that can cleave a corrupted soul from its body, he stalks the earth for millennia to consume souls and take them to the most bottomless pits of Hell, where an eternity of torture awaits his victims. But don't worry, you're safe as long as your soul is still clean. 
Standing at 7.6 feet tall, the Baphomet animatronic features menacing yellow light-up LED eyes and a moving torso and moving arms that lift his giant scythe back and forth ready to strike.
Expected to ship on or before Sept. 30, you can order Baphomet for $299.99 here.
You can watch him in action below.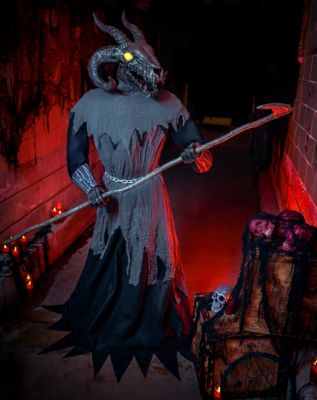 See all of our Spirit Halloween 2021 coverage here!
*Paid links: We may earn a commission from purchases made through links in this article, which helps support the continued operation of Halloween Daily News.
For more Halloween news, follow @HalloweenDaily