'Halloween Kills' is Ultimate Michael Myers [Review]
Halloween Kills gives us what I can only describe as the ultimate Michael Myers, an unsympathetic portrait of terror both brutally violent and devilishly tricky, with enough Easter eggs to fill a trick or treat bag, and some emotional punch that too many of the films in this franchise have lacked.
This film is a love letter to Michael Myers fans, filled with heart and horror, and brimming with more of the "postcards" of death that we witnessed in the previous film, but far more visceral, dirtier and meaner this time. The Shape is alive, and he is pissed. The firefighter massacre alone is an already iconic motif that will live on in every Myers highlight reel from here until eternity. When Michael emerges from Laurie's burning house, even though we all saw it in the trailer, the hairs on the back of my neck stood up, as John Carpenter's score revs up with Danie Davies' electric guitar cutting into the moment like a power saw to the face.
I had predicted that this would be to Halloween 2018 what 1981's Halloween II is to the original film, an amped up, angrier, gorier follow-up revealing more of the same night that further instills Michael as more than a man, but an unstoppable force of evil, and HK is very much that.
We open with the one character from 2018's film who I was probably least expecting to see first, an unlikely entry point into a story that had a few other surprises ahead.
The much-anticipated 1978 flashback scenes quickly shoot us back to a familiar Haddonfield on Halloween Night 40 years ago that looks amazingly just like it was shot in South Pasadena by the original film's cinematographer Dean Cundey, whose masterful use of and ability to shoot in darkness are echoed here. The flashback Myers mask is simply the best recreation of the original that I've ever seen on screen. The Myers House, the Haddonfield P.D., and Dr. Loomis (played by Tom Jones Jr. with a stunningly life-like prosthetic assist from makeup effects artist Christopher Nelson) all look straight out of Carpenter's classic masterpiece.
We zoom in on young Lonnie Elam (played by Tristian Eggerling; read our interview here) to learn what happened to him after Dr. Loomis scared him off the steps of the Myers House that fateful night. His introduction alone is a massive Easter egg, ironically calling back to how he bullied Tommy Doyle earlier that day, with Lonnie even saying the words, "Leave me alone," the exact phrase Tommy pleaded to him.
The opening credits sequence, always a highlight in any Halloween movie, is a cool spin on the traditional formula of moving in on a lit jack-o'-lantern, but it's a fun reconceptualization of it, much like these current films from director and co-writer David Gordon Green are.
The returning legacy characters from the 1978 film are handled with reverence and care, gathered at Mick's Bar for their annual ritual of remembering the night that changed them all and bonded them. Each legacy actor is clearly giving their all, including Nancy Stephens, back for her fourth film as Marion Chambers, and Kyle Richards, who totally reminds everyone that she was a talented actor long before becoming one of the Real Housewives of Beverly Hills, easily slipping back into the role she originated as Lindsey Wallace, now 40 years later.
Charles Cyphers also seemingly effortlessly taps into his character from Halloween and Halloween II, former sheriff Leigh Brackett, whose own daughter Annie was one of Michael's victims in '78. His performance more than any of the other '78 cast members really hit home the tragedy of that night, the unfathomable loss that haunts this father and drives his decisions when Laurie Strode is wheeled into Haddonfield Memorial Hospital, where Brackett now works security.
Myers haunts the entire town in fact, but not always in the same ways. Some, like Vanessa and Marcus, played to perfection with amazing chemistry by Carmela McNeal (watch our interview here) and Michael Smallwood (watch our interview here), reprising their roles from 2018, are vaguely aware of the babysitter murders, but the facts have bled into myth over the decades, so The Bogeyman is not quite real to them, not yet anyway. McNeal and Smallwood are so enjoyable in this film, I seriously wouldn't mind a spinoff story showing more of how they spent their Halloween Night prior to meeting the survivors of the original attack. They are likable, believable, and hilarious.
New characters introduced in this film, Big John (Scott MacArthur) and Little John (Michael McDonald) are also well aware of the legend of Michel Myers, but they see it more like a harmless folktale to be used to spook annoying trick or treaters, until of course they too come to believe in The Bogeyman.
James Jude Courtney (watch our interview here) more than owns the role of Michael Myers, but inhabits it like Michael in his coveralls, making it entirely his own as if it had never been anyone else's, while somehow also keeping it instantly recognizable as the thing we've all come to know as The Shape. I believe Courtney will be remembered and beloved for his time behind Michael's mask in much the same way that Kane Hodder is remembered and beloved for his time behind Jason's mask.
And Michael has just never looked better, from Nelson and his team's bloodied and burnt mask that seems to somehow illustrate Myers' inner psychosis, to how he is framed and shot, still creeping in the shadows but now with larger than life attack stings, to the kills, the beautifully disgusting moments of pure evil that have a new kind of mean to them. This is Michael made bigger and badder than ever. Of course, I always imagine Michael is smiling under the mask, as he is a trickster after all, and that often overlooked but vital part of the character is on full display here.
The mob of Haddonfielders on a mission to hunt the hunter is lead by Tommy Doyle, played here by Anthony Michael Hall, taking over the role from original 1978 actor Brian Andrews. He is quite fittingly introduced as the keeper of the story of That Night, the one among the survivors who it seems has the tradition of telling the legend of Michael Myers. Upon learning that Michael has escaped, Tommy springs into action, determined to protect Laurie Strode the same way she protected him 40 years ago and inspiring everyone around him to join in the hunt.
Jamie Lee Curtis again gives a knock-out performance as a wounded Laurie, shocked to learn that her plan to kill The Shape did not succeed and maybe even more shocked to face a truth she never could accept before, that the killer in the white mask picked her one day for absolutely no determinable reason, and that's just not what happened when he came back, as it was his doctor, Sartain (Haluk Bilginer), who wanted to reunite them. Laurie is nearly helpless in the hospital, and becomes even more so when Tommy's vigilante mob arrives, gains more followers, and complete chaos ensues.
The wild hospital riot is more than just believable in a post-Jan. 6 world, it's a terrifyingly gut-wrenching reminder how helpless the few voices with actual fact-based knowledge are amid a sea of madness.
Andi Matichak is given much more room to shine in this film, as Allyson defies her mom, joining Cameron Elam (played by Dylan Arnold, also returning from 2018) and his dad, Lonnie (played by Robert Longstreet), who is haunted by his own encounter with The Bogeyman.
Judy Greer's Karen became one of the most interesting characters in this story after the "gotcha" twist in 2018, and Greer is also given plenty of room bring the gravity of this night home, having just lost her husband and been violently confronted by the very thing that has driven her apart from her mom and scarred their relationship.
When she realizes the mob may be hunting the wrong man, with anarchy erupting inside the crowded halls of the hospital, Karen's voice of reason is drowned out by the recurring chants of "Evil Dies Tonight," a noble sentiment rendered moot if the thing they are killing is not the evil they think it is. Laurie trained her to know how to survive physically if (when) Michael came back, but nobody could truly prepare mentally, and now it's really happening, Laurie was right all along and He is back.
Many characters in this film make very poor decisions, mostly because they underestimate the pure evil they are facing. Even those who faced it before are driven by the urgency of deep-staining trauma to act immediately, and, unfortunately, often foolishly. Haddonfield descends into its own darkness and damage, while Michael rises as the slasher king, leaving a trail of bodies leading back to where it all began.
John Carpenter's score, composed with his bandmates Cody Carpenter and Daniel Davies, is vibrant, propulsive, and appropriately spine-chilling. Adding a choir to the classic main title theme gives more grandeur and definitely raises the stakes. Davies' electric guitar is thankfully used much more this time than in 2018, cutting to the anger and viciousness propelling Michael, and the younger Carpenter's Goblin-esque keyboard frenzies mimic the manic mind of a predator on the loose.
I'm writing this after one viewing and about a week to think about it, and I will no doubt have additional thoughts and discoveries upon repeat viewings, but this is easily one of the best films in horror's most hallowed franchise, destined to be a fan favorite.
Halloween Kills is in theaters and streaming on Peacock now.
See all of our Halloween Kills coverage here!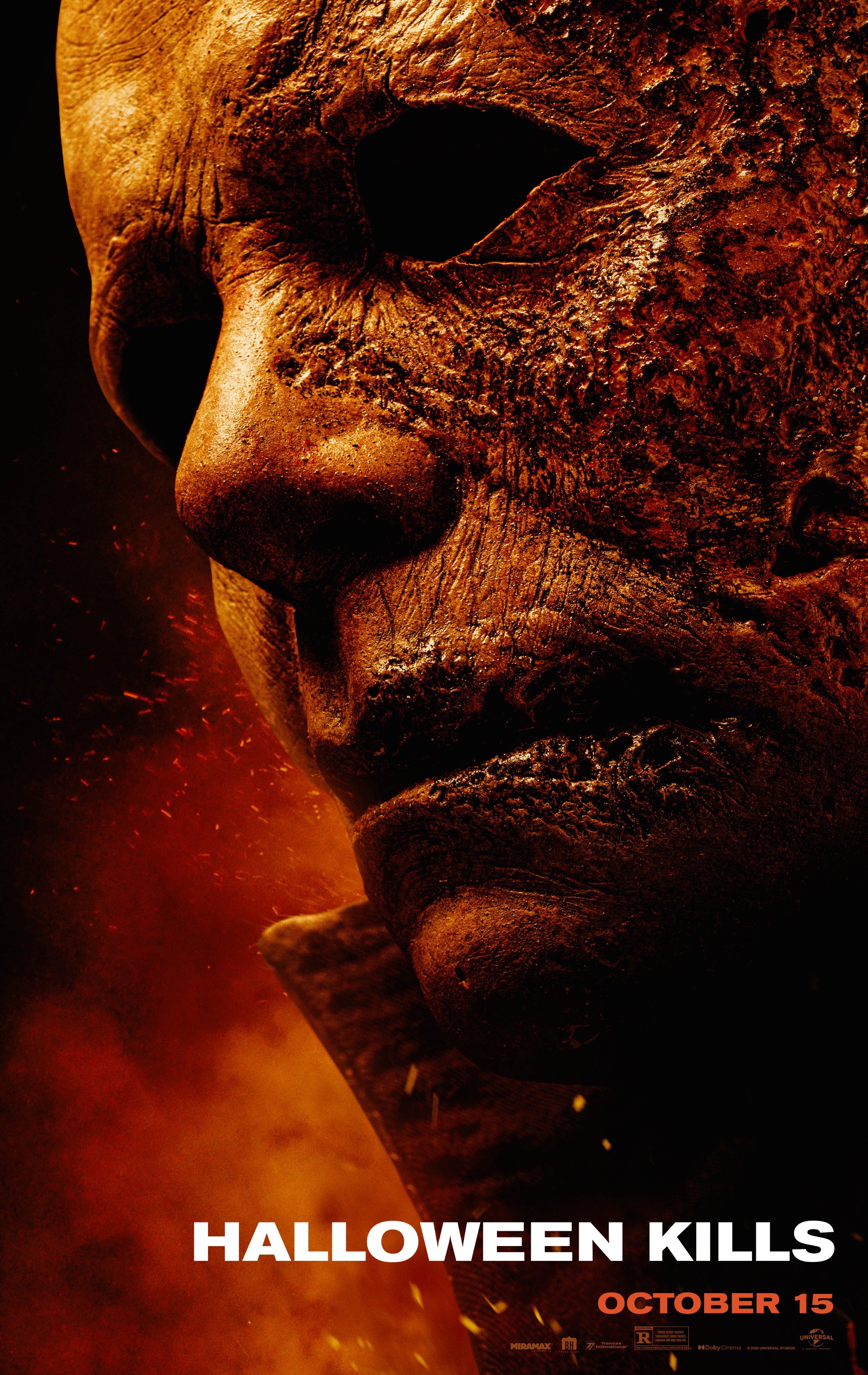 For more Halloween news, follow @HalloweenDaily.