It's Always Someone You Know in Official 'Scream' 2022 Poster
Ghostface is back in official teaser poster for the upcoming fifth Scream movie was released online today on the occasion of the original Scream's 25th anniversary screening.
Wes Craven's 1996 classic Scream is playing today (10/10) and tomorrow (10/11) in theaters across the country through Fathom events, where the first teaser trailer for the new Scream movie is expected to be unveiled.
The new poster features Ghostface with his familiar weapon of choice, along with the tagline "It's always someone you know."
The cast includes Neve Campbell reprising her role as Sidney Prescott, joining previously announced legacy cast members David Arquette and Courteney Cox who will return as Dewey Riley and Gale Weathers, respectively, as well as new cast members Melissa Barrera (In The Heights), Jenna Ortega (You), Jack Quaid (The Boys), Dylan Minnette (13 Reasons Why, Goosebumps, Don't Breathe), Mason Gooding (Booksmart), and Sonia Ammar co-star in the highly anticipated sequel, along with Kyle Gallner (A Nightmare on Elm Street 2010), Jasmin Savoy Brown (The Leftovers), and Mikey Madison (Once Upon a Time… In Hollywood). Marley Shelton (Sin City, Planet Terror) is also back, reprising her role as Woodsboro Deputy Judy Hicks from 2011's Scream 4.
The new Scream is directed by Matt Bettinelli-Olpin and Tyler Gillett of the filmmaking group Radio Silence (Ready or Not, V/H/S) from a screenplay by James Vanderbilt (Murder Mystery, Zodiac, The Amazing Spider-Man) and Guy Busick (Ready or Not, Castle Rock). Creator Kevin Williamson and the third member of the Radio Silence trio, Chad Villella, are executive producing with Project X Entertainment's Vanderbilt, Paul Neinstein, and William Sherak serving as producers.
Paramount Pictures and Spyglass Media Group will release Scream in theaters on January 14, 2022.
You can see the brand new official poster below!
Stand by for the trailer as soon as it's released, and a full breakdown and discussion to follow on our YouTube channel!
See all of our Scream 2022 coverage here!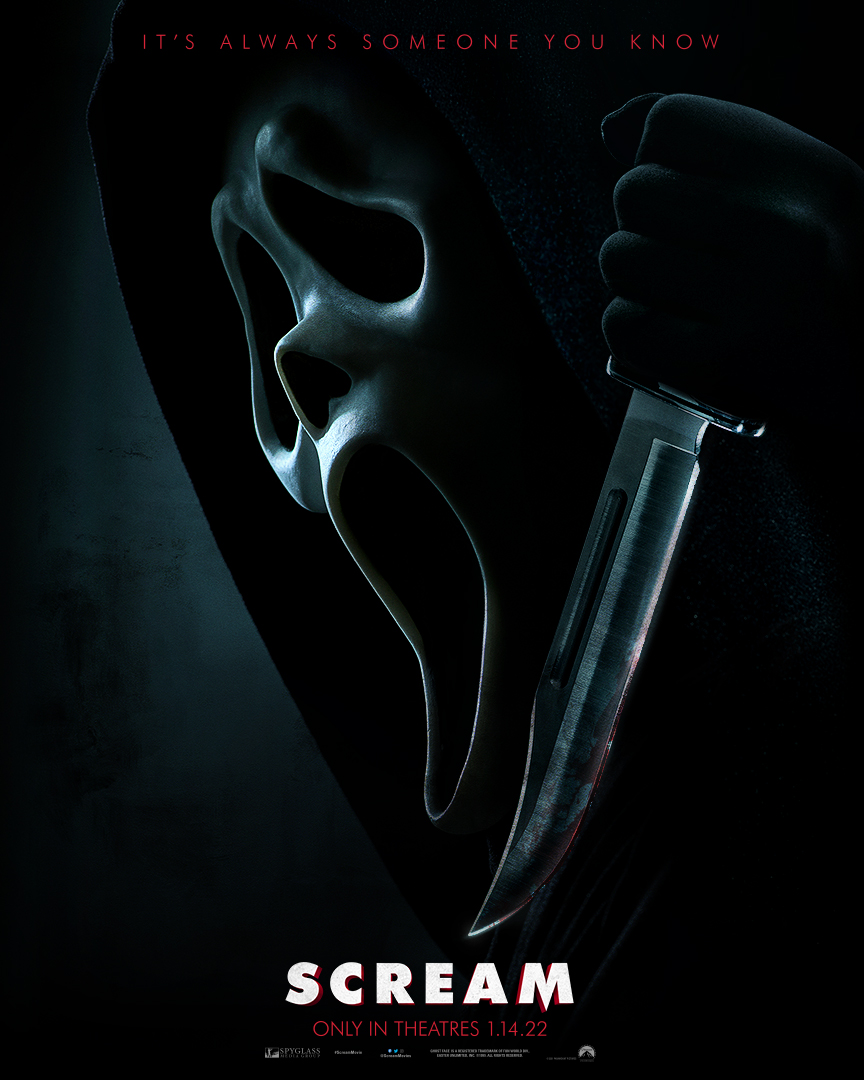 For more Halloween news, follow @HalloweenDaily.