Spirit Halloween Just Re-Released Two More Animatronics for 2021
Spirit Halloween surprised everyone by releasing a post-October animatronic in November of 2020, and they have just done it again – twice – unveiling two more 2021 animatronics, Lil Nester and Bloody Bag of Jokes, both re-releases from years prior.
Each of these 2021 re-releases is available to purchase online only, as all physical Spirit Halloween stores are closed until next year.
After years and years of a failed career in stand-up comedy Joe the Jokester just couldn't take it anymore. Willing to die for just the teeniest ounce of attention, he promised himself that his last stand-up routine will be one the crowd will never forget! Now instead of telling innocent jokes, he finds laughter in pain and put his body through intense and gruesome torture just to gain an audience. No one has seen what he looks like ever since he's entered the bag, just what has become of him and his comedy routine as a result. You don't want to be the lone guest at this comedy show or you might just get hit with a killer punchline!
Originally released in 2013, the 4.8-foot hanging Bloody Bag of Jokes animatronic is back, featuring three different phrases and twisting back and forth motions, with light-up LED eyes.
In stock now and shipping now, you can order Bloody Bag of Jokes for $179.99 here.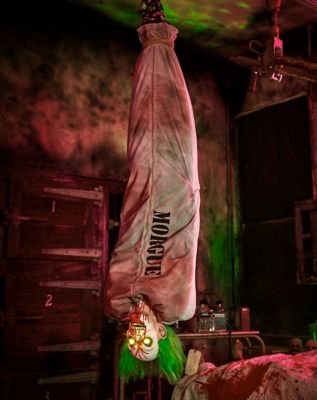 Lil Nester just wanted a friend to play with. For years and years each night he patiently sat there swinging back and forth, waiting for someone, anyone to come by to come give him a push. After no luck of anyone showing up, Lil Nester ended up stuck there waiting for eternity. Now his only friends are the undead, and although you can't see them, you'll know once they're out to play by their screams and terrifying cackles. Now each cold foggy night Mr. Nester and his new friends wait together for the next unsuspecting child to play on the swing and join their life-long undead friend group.
Originally released in 2014, the two-foot Lil Nester swinging animatronic is also back, featuring two different phrases while he swings back and forth staring at you through his creepy pumpkin skull face with light up LED green eyes.
In stock and shipping now, you can order Lil Nester for $149.99 here.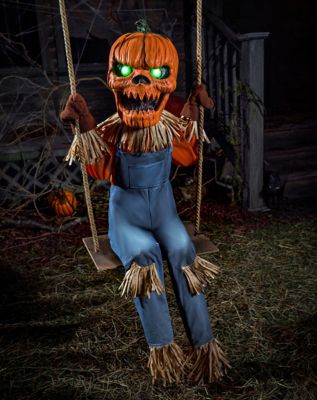 See all of our Spirit Halloween 2021 coverage here!
*Paid links: We may earn a commission from purchases made through links in this article, which helps support the continued operation of Halloween Daily News.
For more Halloween news, follow @HalloweenDaily