Leatherface Revs It Up Again in New 'Texas Chainsaw Massacre' Trailer!
While we only just got our first look and plot details on Legendary Pictures' new Texas Chainsaw Massacre movie yesterday, the official trailer has now just dropped, featuring the return of one of horror's greatest icons of all time, Leatherface!
According to Netflix and Legendary, the film picks up where Tobe Hooper's 1974 classic The Texas Chain Saw Massacre left off, "bringing the most notorious horror franchise back to life in the same bold and provocative manner that it was first introduced to the world."
The film is directed by Emmy Award-winning filmmaker David Blue Garcia (Tejano) and written by Chris Devlin. Fede Ávarez (Evil Dead, Don't Breathe) is producing with Bad Hombre's Rodolfo Sayagues, alongside Kim Henkel (co-writer of the original 1974 film), Ian Henkel, and Pat Cassidy, who are producing via their Exurbia Films.
The cast includes Golden Globe nominee Elsie Fisher (Castle Rock), Sarah Yarkin (Happy Death Day 2U), Mark Burnham (Wrong Cops), Moe Dunford (The Dig), Olwen Fouéré (Mandy), Alice Krige (Star Trek), Jacob Latimore (The Maze Runner), Nell Hudson (Victoria), Jessica Allain (The Laundromat), Sam Douglas (Snatch), William Hope (Dark Shadows), and Jolyon Coy (War & Peace).
Mark Burnham (Lowlife) is our new Leatherface (originally played by Gunnar Hansen), and Olwen Fouéré (Mandy) plays another returning legacy character for the 1974 film, playing Sally Hardesty (originally played by Marilyn Burns).
This will be the ninth film in the iconic Chainsaw franchise.
In the first two official images from the film, unveiled yesterday, Leatherface in seen in silhouette holding a chainsaw in a doorway with rain coming down and a butcher shop sign that says "Butch's Block" visible outside, and new cast members
On casting Burnham as our new Leatherface, Álvarez tells EW, "It was quite a search. Gunnar Hansen passed away. If Gunnar had been alive, I'm pretty sure he would have played [the part], so we were trying to find someone that could have been Gunnar today. We tried to find the best next thing. When [Burnham] showed up, we definitely felt like, 'This is the guy.' He had all the physicality we needed from him on camera. He has such an imposing figure.
"It's basically the same character, who is still alive. Our take on it was this guy probably disappeared after everything he's done. You know, how do you catch a guy who has a mask? Once he removes the mask and runs away, it's very easy for him to hide somewhere. This story will pick it up many, many years after the original story. He's been in hiding for a long, long time, trying to be a good person. These people arriving in this town are going to awaken the giant."
On the film itself, the producer continues, "It felt familiar somehow because it took us back to when I did Evil Dead. Me and Rodo really wanted to make sure we don't disappoint the fans, and we are [among them]. So it's pretty hardcore. But at the same time it has the simplicity of that first film. We wanted to come up with a very simple premise [with] a powerful domino effect. Everything is set up in the right place — all you have to do is push the first domino and everything will happen effortlessly."
He also clarifies that this new entry does not exactly ignore al previous sequels, explaining, "When I say 'direct sequel' I wouldn't say it skips everything. When movies do that, sometimes it feels a bit disrespectful to all the other films. Some people love Texas Chainsaw 2. I love a lot of things about that movie — it's so wacky and of its time. But the rest is such a mess canon-wise. I think it's up to you to decide when and how the events of the other movies happen."
On tapping into the legacy of the 1974 original classic, Álvarez says, "You're 12, 13 and suddenly discover this thing called horror, right? It's always been this nightmarish thing, my experience of watching that movie. Like the original Evil Dead — as a kid, it's not that you enjoy it and go, 'Oh my god, let's watch it again.' It's so strong and traumatizing on so many levels, and it stays with you for f—ing ever, and that's what I think great horror movies should do. That's always my goal as a writer, and now as a producer: to make sure I make something that will stay with someone for a long, long time."
Director Garcia futher promises lots of practical gore, telling EW, "Fede hammered, 'Practical, practical, practical. He was really adamant about capturing as much in camera as possible, and that's something we strove to achieve on set. It takes discipline and a bit more time and patience, but it really pays off in the end."
Texas Chainsaw Massacre will premiere on Netflix on Feb. 18, 2022.
The trailer teases Leatherface revving up his old chainsaw and freaking some young people out. It also features the badass above shot of one of his new masks, with his scraggly gray hair visible from behind.
You can watch the spine-tingling first official trailer for Texas Chainsaw Massacre, as well as our breakdown of the trailer and this week's news, below!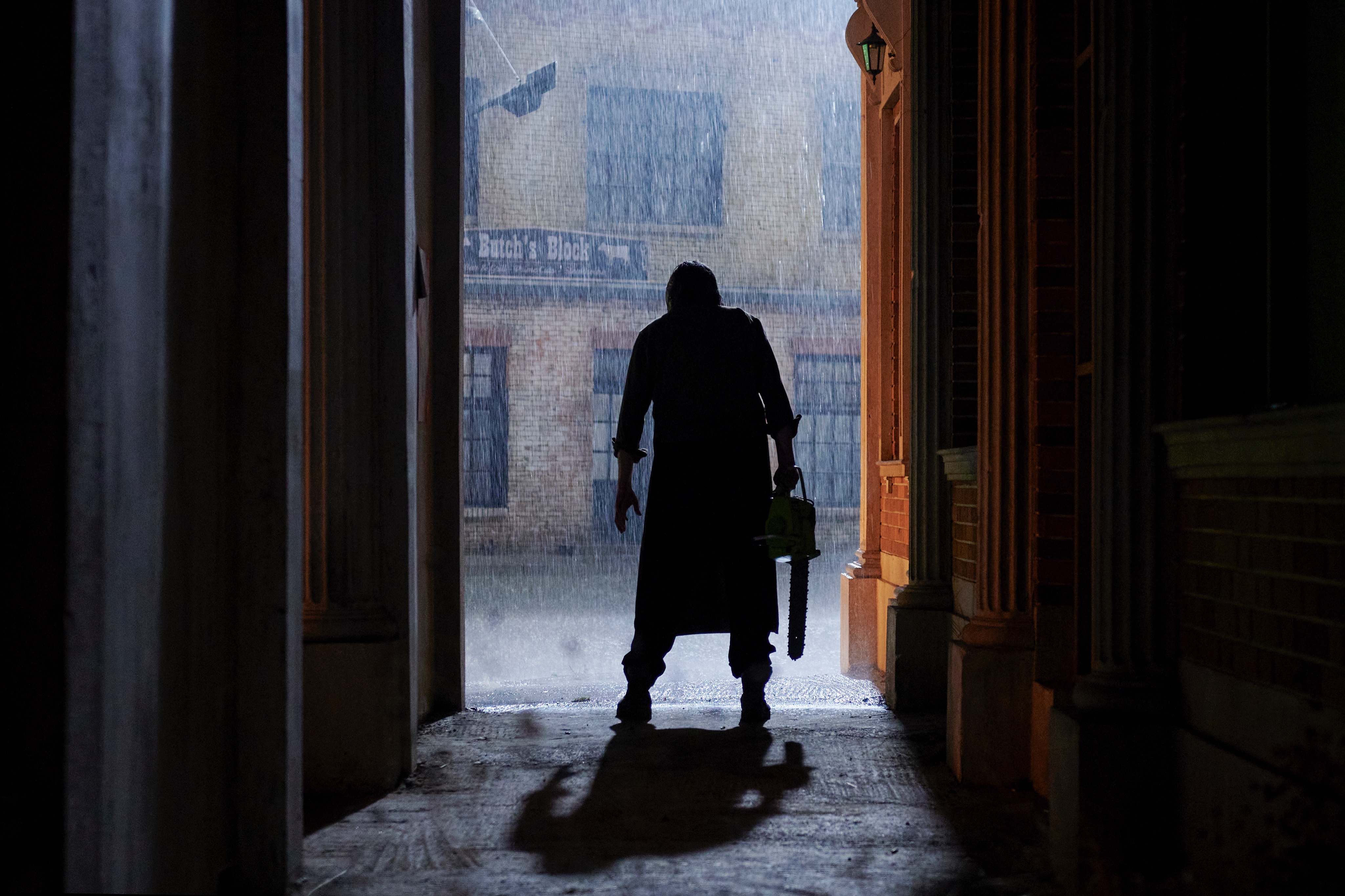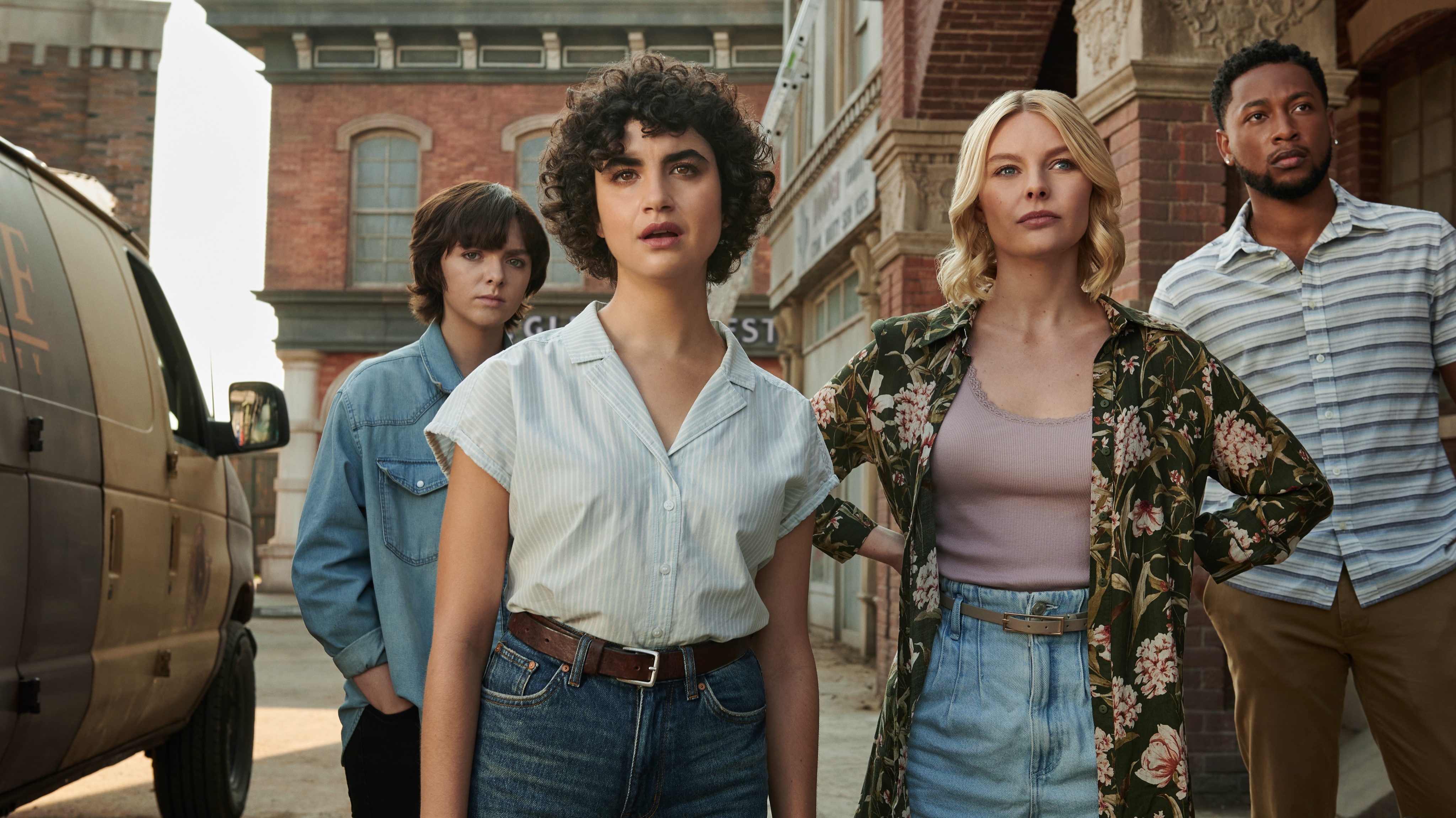 For more Halloween news, follow @HalloweenDaily.