Halloween & Party Expo 2023 Dates Announced
The Halloween & Costume Association and Clarion Events announced today (3/28/22) that the annual Halloween and Party Expo will return to The Mirage in Las Vegas, Nevada, taking place January 10-12, 2023.
The Halloween & Party Expo is North America's only event to bring all things Halloween, Party, and Celebration under one roof. The show successfully returned this year in January and was met with great feedback from buyers and exhibitors alike. Both groups commented that there is no substitute for the face-to-face experience. At the 2023 event, Halloween, party, and specialty retailers can once again expect three days of new product releases, networking, and sourcing opportunities combined with the convenience and excitement Las Vegas provides as the host-city.
Marni Golden Vinci, Halloween & Party Expo Show Director commented, "The focus of the 2022 event was to create a safe environment for buyers and vendors to get back to business. The feedback post-event was overwhelmingly positive regarding the return to live shows, the need for the events, and the business that got done on the show floor. Most importantly, we heard from our customers that they were delighted with the new location and format of the show. Las Vegas is convenient to travel to and holding the event in a host hotel allowed more opportunity to create a community feel during and after show hours. We are excited that we could answer their request and return to Las Vegas in 2023."
The Halloween & Party Expo is the most comprehensive opportunity to source and prepare for the upcoming Halloween season, and the January 2022 show allowed buyers and exhibitors to make new business relationships, see and feel new products in person, and write orders. Buyers and exhibitors were pleased with the opportunities the event provided.
Following the success of the show, there was tremendous feedback to keep the show in Las Vegas. Gregor Lawson, Chairman of the Halloween & Costume Association board and founder of Morphsuits added, "The 2023 Halloween & Party Expo is thrilled to return to Las Vegas based on the request of our attendees and exhibitors. As the country's #1 tradeshow city, there are unlimited dining and entertainment options as well as affordable flight options for domestic and international travelers. We are looking forward to partnering with The Mirage to provide discounted hotel rates as well as opportunities for networking on and off the show floor. We can't wait to carry the excitement and positivity from this year's event into 2023."
For more information visit www.halloweenpartyexpo.com or follow #theHPE23 on social media. Hotel reservations and attendee registration, which is complimentary for buyers, will open late summer.
Exhibit space is available to all companies involved in costumes, accessories, makeup, novelties, party supplies, toys, gifts, and similar products. Those who are interested in booth space or sponsorship should contact Marni Golden Vinci at 203-242-8712 or [email protected].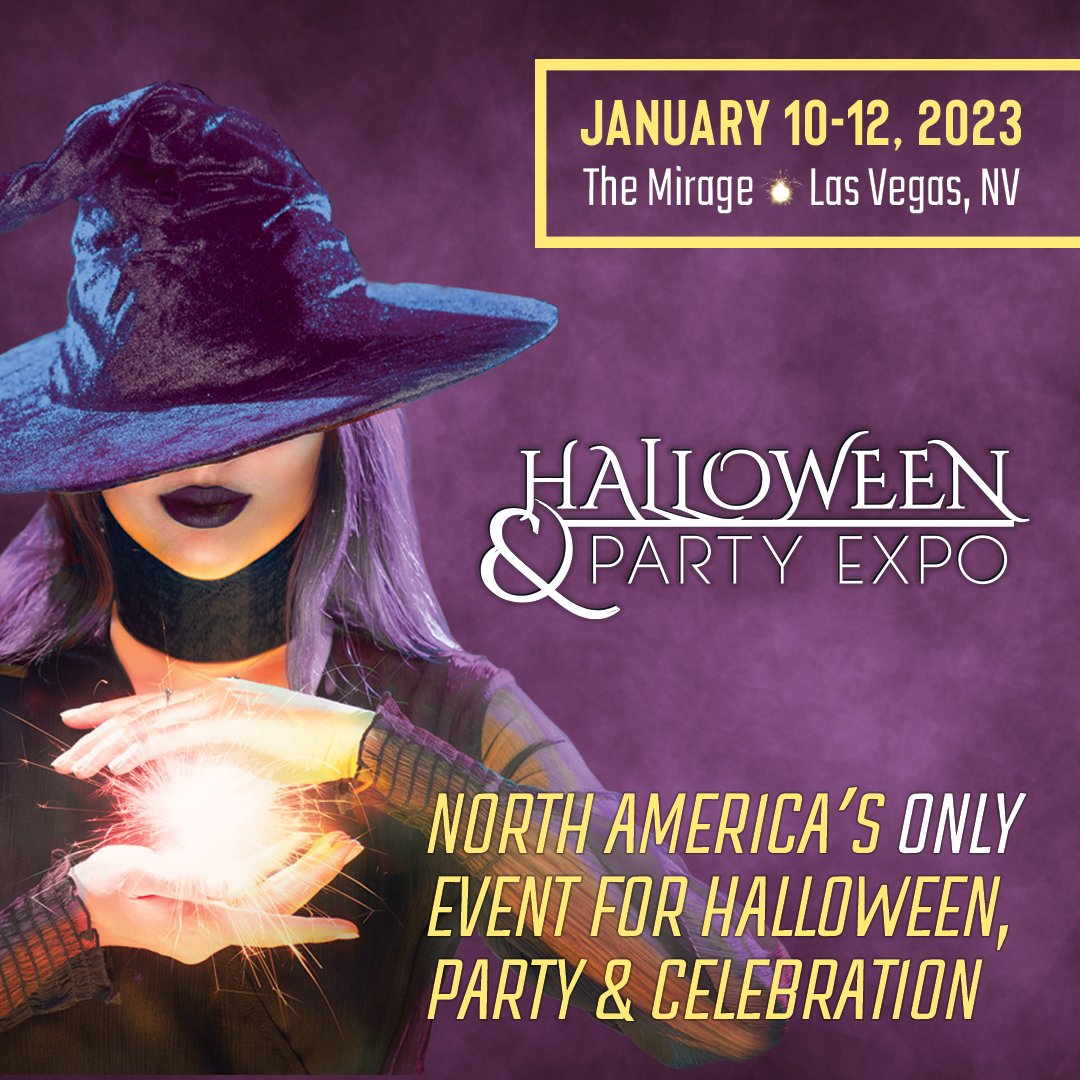 For more Halloween news, follow @HalloweenDaily.