Halloween Cult Favorite 'Satan's Little Helper' Slices onto Blu-ray Uncut [Review]
The modern cult classic Halloween comedy-horror film Satan's Little Helper was released on Blu-ray Uncut for the first time in October, looking better – and more disturbing – than ever, and loaded with new bonus features.
Originally released on DVD in 2004, the film is a wild and subversive night out trick or treating with nine-year-old Douglas Whooly, played outstandingly by Alexander Brickel, who unwittingly assists a serial killer, thinking he is only playing a live action version of his favorite video game, called "Satan's Little Helper". It revels in pitch black humor, so by the time a pregnant woman, baby in a stroller, and blind man are attacked with a shopping cart to earn more "points" in the game, you will be all-in on the absurd fun, or else you will have already turned it off.
Satan's Little Helper goes where few of even the goriest horror movies go with the uncomfortable nature of the whole idea of a masked stranger taking advantage of the innocence of a little boy given a full exploration, much to the credit of Brickel, who is amazingly believable throughout. It also goes where few of even the most raucous comedies dare to tread, walking a razor thin line and never telling the audience when it's "okay" to laugh.
As writer and director Jeff Lieberman (Squirm Blue Sunshine, Just Before Dawn) says in his Blu-ray commentary track, he's not sure if it's a horror-comedy or comedy-horror, but, "It's definitely a hyphenate no matter how you slice it."
Most notably for this review, it has to be said how completely vital the Halloween setting is to this particular story, because even as ridiculous as some parts may seem, the truth is that killing people and setting up their corpses in the broad daylight of suburbia could actually happen on Halloween, and what's more, people would see it happening and think it was cool. Of course, as Lieberman says in his commentary, "It could only happen on Halloween in America."
If you saw pretty much any of this movie happening in real life on Halloween, you would not think anything about it. Even as the kills get more outrageous, it still works precisely because it's Halloween Night.
Lieberman opts for little-to-no music for many of his most intense scenes, letting the events play out in a more drawn out realistic way, dripping with dread, as the viewer knows far more about how dangerous the Satan Man is once he's happily invited into the Whoolys' home than they do. Lieberman explains in his commentary, "If it's real and there's no special effects or supernatural powers, why not underline it with reality, which is no music?… People get uncomfortable when there's no music. The loudest music is silence when you have potential violence."
This becomes a home invasion like no other, where the killer has no reason to be in a rush, and he can take his time and really have fun with this family, which is horrifying to think about.
Showing off all the talents of the future TV series lead she would become, Katheryn Winnick (Vikings, Big Sky) plays Douglas' older sister Jenna, home for Halloween with her new boyfriend Alex, played by Stephen Graham, who Douglas is a bit jealous of. Amanda Plummer (Pulp Fiction) plays Douglas and Jenna's mom in an eccentric yet grounded performance.
Joshua Annex plays "Satan Man", dressed in a devil costume, who Douglas believes is the actual Satan from the video game. As Satan Man continues to dispatch death in increasingly disturbing ways, Douglas thinks it is all just part of the game.
The film is an early and poignant commentary on how video games can capture young minds, driven by Douglas's innocence and inability to distinguish the Satan Man's progressively more perverse and gruesome kills from the usual and expected shenanigans of a typical Halloween.
Making its high-definition Blu-ray debut completely Uncut, the film looks great, and the supplementary treats in the bonus features include the new documentary The Devil in the Details: Making Satan's Little Helper, the new featurette Mr. Satan's Neighborhood: A Tour of the Filming Locations with Director Jeff Lieberman, a vintage behind-the-scenes featurette from 2004, and a promotional trailer.
The Blu-ray, which does not include a Digital code, comes with wicked new cover art by Wes Benscoter showcasing Winnick (whose face is much more recognizable today than in 2004) and that terrifyingly cute relationship between young Douglas and Satan Man, depicted out trick or treating, with a few visible pumpkins to set the all-important Halloween stage. It also comes in a limited edition slipcase with a closeup of Douglas and Satan Man when you order directly from Synapse.
In an era when feature length director commentary tracks are unfortunately becoming frighteningly scarce, Lieberman does thankfully provide an entertaining, funny, and quite informative commentary. Read on for some more of my favorite highlights.
The opening animation of the video game is a microcosm of what happens in the movie, even including the ripped out guts.
Amanda Plummer never did two takes the same way.
Part of the score by David Horowitz contains an homage to John Carpenter's Halloween.
Alexander Brickel was 10 years old at the time of filming, and his mom would sometimes run onto set and ask if he was really scared, but he assured her that he was only acting. "He was just a great actor," says Lieberman.
The panty sniffing scene was not in the script, but Lieberman wanted to show that Satan Man was "multidimensionally sick".
When Douglas and Satan Man are sitting on a bed playing with action figures, it was not in the script, but the actors were actually playing that way in real life, so Lieberman filmed it.
The song playing during the Halloween party scene is "Man of Peace" by Bob Dylan, which features the chorus, "Sometimes Satan comes as a man of peace", with lyrics that Lieberman says could have been written for this movie.
Lieberman originally wanted to end the movie by panning across the street to show the sunrise, then panning back over to see the whole family killed and displayed on their porch in horrible ways, but he didn't have the time or money to shoot it.
Ultimately, to a young kid, God and Satan are not much different than superheroes like Spider-Man or Batman, so when Satan is put into a video game marketed to children, you can't really fault the kid for idolizing what most would say as ultimate evil, and this film brilliantly plays on some of the most fundamental fears of all parents.
Far from a typical slasher but nonetheless bloody, Satan's Littler Helper is a uniquely twisted member of the Halloween movie pantheon that kills with laughter and laughs at death.
Satan's Little Helper is available now on Blu-ray for the first time, from Synapse Films. You can buy it here via Amazon.
*Paid links: We may earn a commission from purchases made through links in this article, which helps support the continued operation of Halloween Daily News.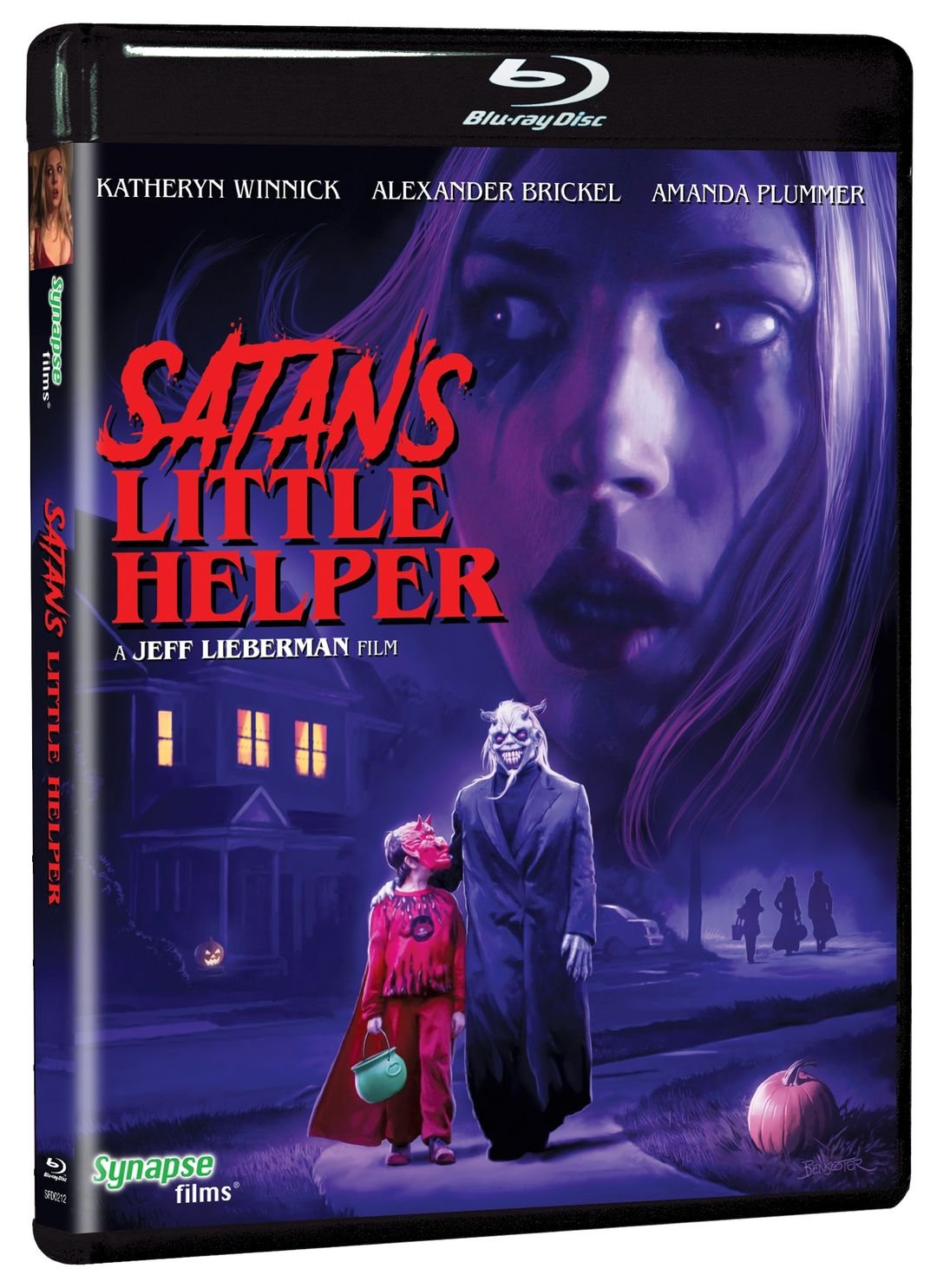 For more Halloween news, follow @HalloweenDaily.