'Scream VI' Directors Speak on New Ghostface Mask and New York Setting
The first official teaser trailer for the upcoming sixth Scream movie was released yesterday, confirming that Scream VI will unleash a new Ghostface killer in New York City on Halloween, and at the same time, an official image from the film showcasing a "new" Ghostface mask, featuring a much older, worn out and cracked appearance, was also released, providing a hint of the plot, according to the directors.
Speaking to EW, where new mask image below first premiered, co-director Tyler Gillett said of the mask's weathered appearance, "It will all make sense in the context that you see it in the movie. That was another one of the really interesting risks and creative approaches in this movie. It's meta in a different way, and the mask very much factors into that." Co-director Matt Bettinelli-Olpin adds, "It was not an arbitrary choice."
This next chapter of the franchise moves away from the small town vibes of Woodsboro and takes place in the crowded big city of New York, where the four high school survivors from the previous Scream movie have relocated.
"They have all come to New York to go to school," Gillett tells EW. "One of the things that was so exciting to us was bringing the story and bringing this slasher icon into a new location. I think across the board, for the writers Guy [Busick] and Jamie [Vanderbilt] as well, this was such a fun opportunity to explore what that would feel like, bringing the world of Scream into that setting. The teaser is a good example of how we're having fun with that throughout the movie. That is one of many sequences in the movie that uses the city really to its benefit and in surprising and thrilling ways."
In New York, the core four will catch up with best-selling author all-around Ghostface expert Gale Weathers, played once again by legacy cast member Courteney Cox..
"It's always good to see Gale Weathers and how her life has evolved," says Bettinelli-Olpin. "It's really nice to see Gale in her element in New York."
The directors say that Neve Campbell's departure from the project affected the script "greatly," but Gillett explains, "We love Neve, and we're huge fans of Sidney Prescott, but it felt like there's an opportunity to really dig into this new crop of characters, and I think people will be really surprised and pleased with how successfully this movie does that. This movie's been in our lives now for quite a while, but I think that we are still consistently surprised by how rich and how interesting and deep the relationship is between the four of them in this movie."
The brief teaser trailer released this week gives little away, but includes some of our returning cast members on a crowded subway train, and many people in costumes (including some horror icons), alluding to the Halloween setting, as a number of people dressed as Ghostface soon appear.
The official synopsis: Following the latest Ghostface killings, the four survivors leave Woodsboro behind and start a fresh chapter.
Hayden Panettiere will make her return to the big screen as "Kirby Reed," reprising her role from Scream 4 (2011), joining returning cast members Melissa Barrera ("Sam,") Jasmin Savoy Brown ("Mindy,") Mason Gooding ("Chad,") and Jenna Ortega ("Tara"), and legacy cast member Courteney Cox, once again playing Gale Weathers. Samara Weaving (Ready or Not, The Babysitter) and Tony Revolori (Ready or Night) have joined the ensemble cast, along with Dermot Mulroney, Henry Czerny, Jack Champion, Liana Liberato, Devyn Nekoda, and Josh Segarra.
Roger L. Jackson also returns as The Voice of Ghostface.
Directing once again are Radio Silence's Matt Bettinelli-Olpin and Tyler Gillett (Scream, Ready or Not), with James Vanderbilt (Scream, Murder Mystery) and Guy Busick (Scream, Ready or Not) co-writing the screenplay. Project X Entertainment's Vanderbilt, Paul Neinstein, and William Sherak are serving as producers. Creator Kevin Williamson and the third member of Radio Silence, Chad Villella, are executive producing alongside Spyglass' Gary Barber and Peter Oillataguerre, Ron Lynch, Cathy Konrad, and Marianne Maddalena.
Scream VI will arrive in theaters on March 10, 2023.
You can see the new image and watch the official teaser, as well as our trailer breakdown, below.
See all of our Scream VI coverage here.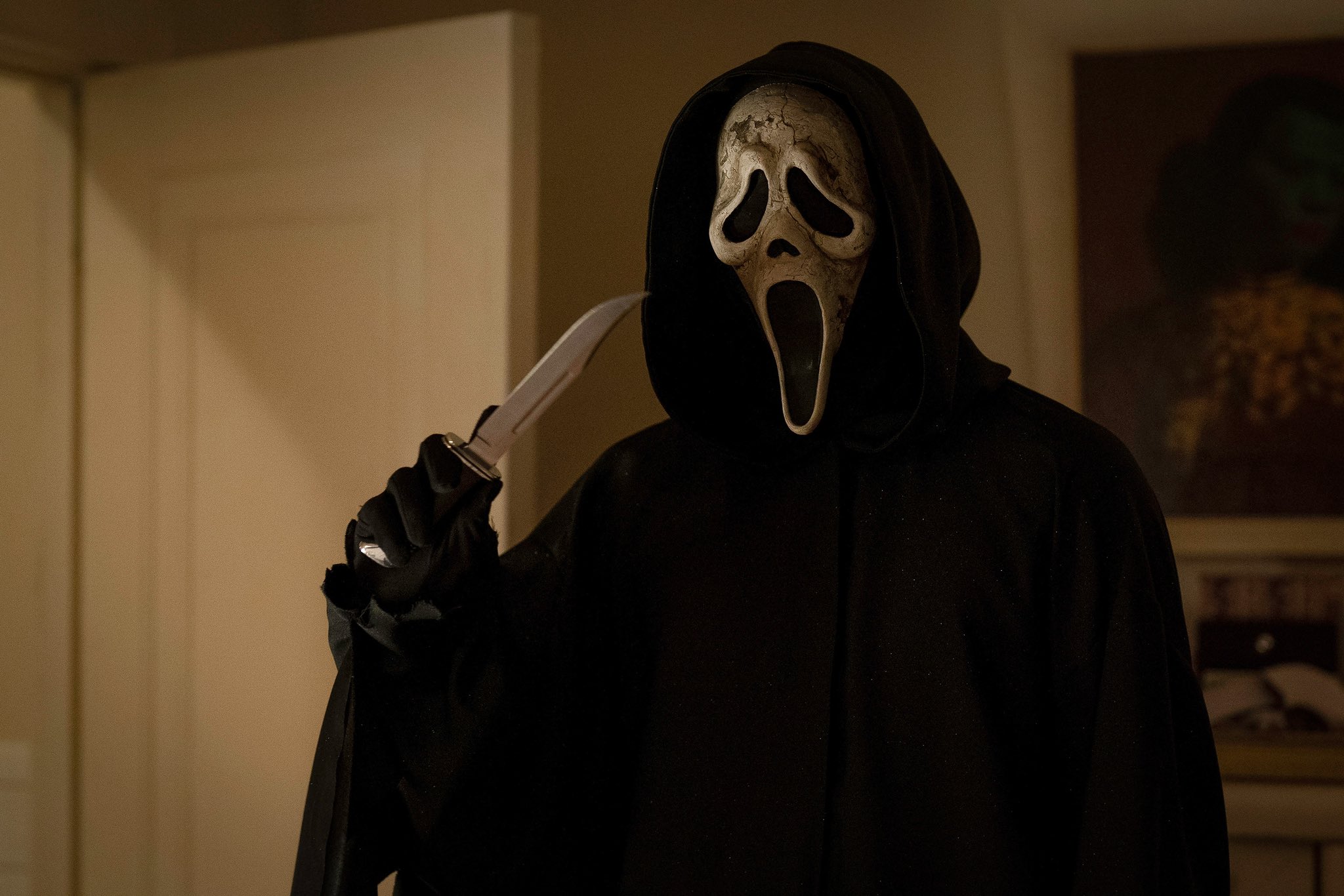 For more Halloween news, follow @HalloweenDaily.