'The Exorcist' Regan Animatronic Returns for 2023 from Spirit Halloween
Spirit Halloween has not yet begun to unveil their new product releases that will be arriving in stores later this year, but many returning favorites have been confirmed and are already available to order online, including last year's life-size Regan animatronic, officially licensed from the 1973 classic horror film The Exorcist.
First released in 2022, the animatronic stands five feet tall and speaks in the demonic voice of Pazuzu possessing the body of a young girl named Regan MacNeil, played by Linda Blair in the movie, as its head spins all the way around. It even projects the terrifying face of the demon onto the wall behind the animatronic, adding a terrifically horrifying effect.
Regan was living a normal life as a sweet and pure 12-year-old girl in Georgetown with her mother, Chris. After the sounds of disturbing noises coming from the house and several violent and bizarre episodes from Regan, Chris knew something was up and would do anything to find answers. After various tests from doctors and evaluations from anyone who may have answers, one thing was clear… Regan wasn't Regan anymore. Having been possessed by an ancient demon, Regan now speaks in a vulgar tongue, sports various scars and sores on her body, and can contort herself in various disturbing ways. The only answer to save this girl from her possession? An Exorcism.
With disturbing head-spinning movements just like in the movie and actual voice lines from the film, this Regan animatronic stands at five feet tall, and features a spooky light-up image of the demon she's possessed by that projects from her back.
Product Sayings

"What an excellent day for an exorcism. It will bring us together…you and us. (Screams and neck bone crunching as head turns)"
"I'm not Regan…I'm the Devil!" (All sorts of exorcism sounds) (neck bone crunching "It burns, it burns!") as head turns around.
"(Devil sounds) …. You killed your mother, you left her alone to die!" "Keep away, the sow is mine!" (Neck bone crunching as head turns)
"Your mother's in here with us Karras. Would you like to leave her a message? I'll see that she gets it" (Devil groans and bone crunching as head turns around)"
Priced again at $279.99, and currently listed as in stock and shipping now, you can order the Exorcist Regan animatronic here.
See all of our Spirit Halloween 2023 coverage here!
*Paid links: We may earn a commission from qualifying purchases made through affiliate links in this article, which helps to support the continued operation of Halloween Daily News.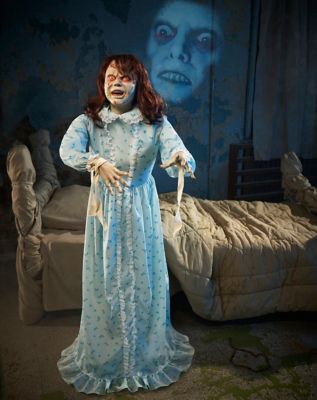 For more Halloween news, follow @HalloweenDaily.