'Krampus' Movie Animatronic Brings Christmas to Spirit Halloween
Spirit Halloween continues to unveil their new products for the 2020 Halloween season, today revealing the massive Krampus animatronic, and it's not just a generic Krampus, but officially licensed from director Michael Dougherty's 2015 movie.
This half-goat, half-demon is here to keep an eye on the behavior of all who celebrate. Watch your back because Krampus is always watching. Should you decide to misbehave, you may be in for a punishment!
Standing at 7.5 feet tall, this life-size Krampus animatronic features light-up eyes, howling sounds, and moves from side to side.
Expected to ship on or before August 12, you can order Krampus for $349.99 here.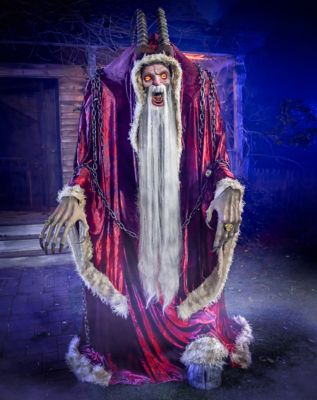 Check him out in action in the videos below!
*Paid links: We may earn a commission from purchases made through links in this article, which helps support the continued operation of Halloween Daily News.
For more Halloween news, follow @HalloweenDaily.