New Harvester of Souls Animatronic Haunts Spirit Halloween
Spirit Halloween continues to unveil their new products for the 2020 Halloween season, today revealing the unique life-size "Harvester of Souls" animatronic.
He climbed from the depths of Hell to collect souls for his evil horde. The Harvester of Souls will stop at nothing to fuel his army of undead children and wreak havoc on us mere mortals. He has lived for thousands of years in the shadowy gates of Hell, feasting on the souls of lost children and building his army to seek his twisted revenge against the dark-hearted world and the orphanage that cast him aside on his eighteenth birthday.
Standing 6.2 feet tall and motion activated, the Harvester of Souls features LED lighting, as his arms raise up to lift up his young victim so he can suck the soul straight from her body, saying, "Look at me, just as all the others have. Now that I have you, your soul will be mine… FOREVER."
Expected to ship on or before Sept. 16, you can order the Harvester of Souls for $299.99 here.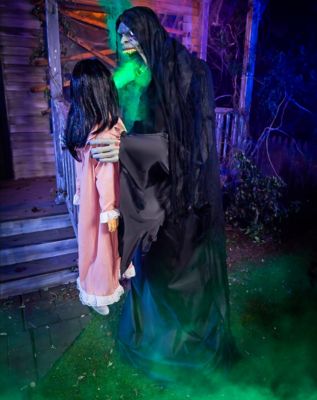 Check him out in action in the videos below!
*Paid links: We may earn a commission from purchases made through links in this article, which helps support the continued operation of Halloween Daily News.
For more Halloween news, follow @HalloweenDaily.