Punctured Pete and Miserable Marie Animatronics Debut at Spirit Halloween
Spirit Halloween continues to unveil their new products for the 2020 Halloween season, most recently revealing the seventh and eighth new animatronics of the year, the life-size undead couple "Punctured Pete" and "Miserable Marie."
Pete's life was pretty simple. No cell phone, no internet, and no TV. Each morning, he wakes up and shaves, showers, eats breakfast, and downs a cup of coffee before heading to open up the wood mill. Unfortunately for Pete and his wife Marie, they had no idea that an experiment gone wrong set loose a horde of zombies.  Pete tried his best, but they got him long before the buzz saw kicked a sharpened piece of timber through his chest.
Punctured Pete is a constant motion animatronic featuring pain-stricken groans and red glowing eyes for added terror.
At 3.4 feet tall on his knees and expected to ship on or before Aug. 26, you can order Punctured Pete for $169.99 here.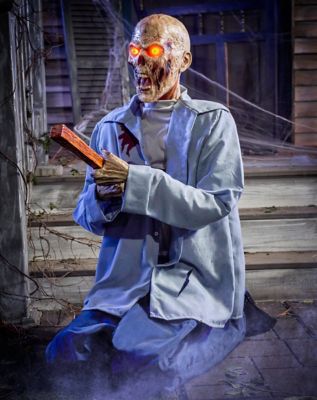 Marie likes to wash the dishes and listen to the birds. She could hear her husband Pete firing up the buzz saw at the old mill and the chickens clucking out back. Those things are also the reason she didn't hear the Zombies that were accidentally unleashed from the secret government facility climbing up her front porch steps. At least Marie got to hear the birds one last time before they ate her face. Now, she and Pete can be together forever.
Miserable Marie's upper body violently twitches with pain-stricken groans for a terrifying scare.
Standing at five feet tall and expected to ship on or before Aug. 26, you can order Miserable Marie for $169.99 here.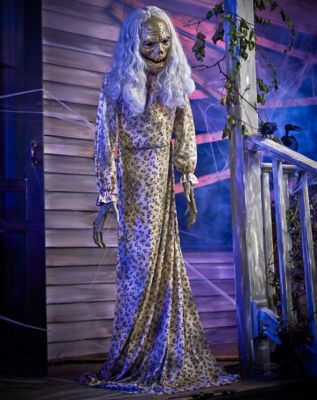 Check them out in action in the videos below!
*Paid links: We may earn a commission from purchases made through links in this article, which helps support the continued operation of Halloween Daily News.
For more Halloween news, follow @HalloweenDaily.