New 2020 Clown Animatronics Mimic Horror Icons
Spirit Halloween continues to unveil their new products for the 2020 Halloween season, today revealing a trio of killer clown animatronics, one of which seems to be an unofficial wink at Art the Clown, and another reminds us of young Michael Myers.
Styled in all black and white similar to Terrifier's Art the Clown but with a Pierrot costume, the "Clowning Around" animatronic takes play time to a whole new level with a child victim flailing in horror in each hand.
No one thought calling the AAA Big Top Babysitting Service would end like this. Next time, if the kids ever will let you leave their sight again, make sure you tell them not to send a 7-foot tall diabolical mad clown, even if he is just trying to make some extra money with a new side hustle. Either way, we bet your kids will have a whole new attitude about the circus!
His waist and head turn side to side, and his eyes light up and mouth moves. Unlike Art, this clown talks, with sayings including:
Ah-hyuk! *screams* Well look at these two little ones, all wriggly and squirmy-like! *scream* They're so cute I could just eat them up. Hey, that's not a bad idea! Ah-hyuk yuk! *scream*"
"*Scream* Hey now, there's no need to be like that! *screams* We're gonna have SO MUCH FUN together huh huh! Just you wait, soon you'll be screaming with happiness *screams* See? We're all having fun now hyuk-hyuk *screams*"
"Hey you two, trying to get by me without giving me a hug?! *screams* Why, you could have hurt my feelings if i had any. *screams* Shucks, I'd run away from me too if I could! Hoo hoo hoo!"
"Looks like I got some new material for my act. *screams* Don't worry now, I'm a pro-fessional. *screams* I do wonder though, should I juggle you with torches or chainsaws? Huh-hahhahaha! They both sound fun to me! hahahah"
"Hey, you there! I'm trying to figure out what to do with these two little tykes. *screams* But, as you can see, they're a but unwilling to cooperate. *screams* So, so I put them in the box? *screams* Or in the pot? *screams* Huh huh huh I know, right?! Either way sounds grea to me. Huh-huh ha!"
"Little Uncle boo-boo climbin' through your window, scoopin' up the children and bitin' off their heads. *screams* Huh huh. Oh, come on! Everybody's a critic. *screams* Huh-huh-ha!"
Towering at seven feet tall and expected to ship on or before Sept. 30, you can order Clowning Around for $299.99 here.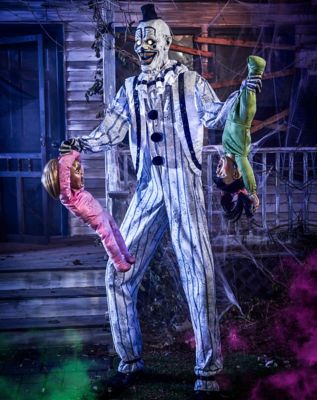 "Johnny Punk" resembles a young Michael Myers but in a red hoodie, swinging back and forth on his swing.
Johnny's bad. There's no good reason, no story about a broken home or a deadbeat dad. He's got a nice house, loving parents, and a severe attitude problem. You can usually find him swinging at the local playground and making all the kids and their parents a bit worried about what happens when Johnny decides to get up from that swing, but don't worry, his bark is worse than his bite, for now.
Unlike the silent Myers, the life-size Johnny Punk animatronic taunts his onlookers with bratty phrases. His sayings include:
"Who you calling a clown? You don't know who you're messin' with!" *laughing*
"I've been waiting for you to come out and play. What took you so long?" *laughing*
"You made a big mistake coming over here. I'll give you to the count of three. 1…2..3!"
Expected to ship on or before Aug. 12, you can order Johnny Punk for $159.99 here.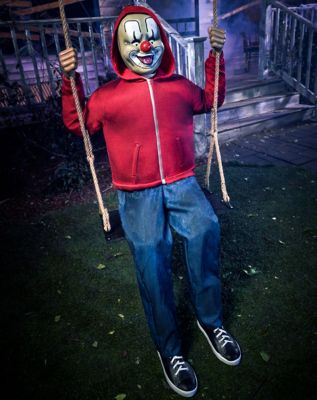 The "Fright in the Box" animatronic features yellow glowing eyes, and his head pops up when you least expect it for a terrifying scare.
After the toymaker's wife died, nothing made him happy. Making trains and dolls was no relief. One day, a man from the traveling circus visited him and promised to cure all of his pain and make him laugh again if he made him one particular toy. Desperate for his melancholy to cease, the toymaker agreed. Now, no one has seen him since, but locals say behind the clown's twisted face they can see the toymaker's eyes when the Fright in the Box strikes. 
At 3.5 feet tall, Fright in the Box plays "Pop Goes the weasel," and then pops up and screams and laughs.
Expected to ship on or before Sept. 2, you can order Fright in the Box for $209.99 here.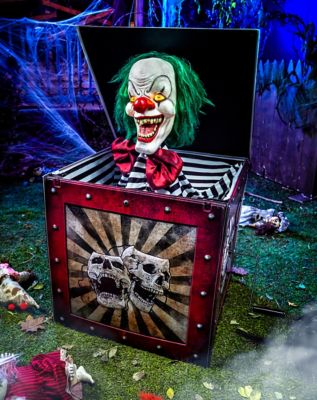 *Paid links: We may earn a commission from purchases made through links in this article, which helps support the continued operation of Halloween Daily News.
See more new 2020 Halloween products here!
For more Halloween news, follow @HalloweenDaily.