New 2021 Pennywise Animatronic Rises From the Sewer
Spirit Halloween has officially revealed a new for 2021 Pennywise animatronic that rises up out of a sewer grate and is now available to order online.
First teased in the Graveyard Shift trailer, the new Pennywise animatronic's public works pipe base stands at approximately 21 inches tall, featuring the Dancing Clown with glowing yellow LED eyes popping up out of the opening sewer lid. It is officially licensed from the sequel film It Chapter Two.
After 27 long years of hiding away in the deep dark sewers of Derry, Maine, Pennywise has awoken once again in search of tasty fear to feast on this Halloween. Able to shapeshift at will and transform into your worst nightmares, Pennywise the Dancing Clown has always been one for the theatrical. He loves to lurk on his victims from the sewers waiting for that perfect moment to lure them in before he strikes! The Loser Club had stopped them as children once before but now he's back again to exact revenge on the town and especially those losers this Halloween. 
Priced at $219.99 and expected to begin shipping on or before Sept. 30, you can order the Pennywise Sewer Grate animatronic here.
See all of our Spirit Halloween 2021 coverage here!
*Paid links: We may earn a commission from purchases made through links in this article, which helps support the continued operation of Halloween Daily News.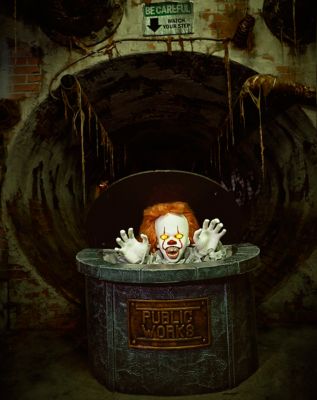 For more Halloween news, follow @HalloweenDaily.