Join Us for Disney's 'Under Wraps' Halloween Movie Virtual Premiere Event!
The Disney Channel's remake of the network's first ever original movie, the Halloween mummy tale Under Wraps premieres next Friday, but a few of our readers can join Halloween Daily News at the film's Virtual Premiere on Thursday, Sept. 30, featuring appearances by the cast, Halloween trivia, and a special advance screening of the new Under Wraps.
HDN is proud to be Disney's exclusive press partner for the virtual premiere of this family-friendly remake of the 1997 Halloween classic Under Wraps, which was the first-ever Disney Channel original movie.
The cast of the remake includes Christian J. Simon (Sydney to the Max), Malachi Barton (Stuck in the Middle), Sophia Hammons (The Social Dilemma). and renowned dancer and choreographer Phil Wright (Disney Fam Jam) as the film's mummy.
The re-imagined story, as in the original, takes place a few days before Halloween, when 12-year-old friends Gilbert (Simon), Marshall (Barton), and Amy (Hammons) accidentally revive a mummy that they discover in a neighbor's basement, which they affectionately name Harold (Wright). But then they must rush to return him to his resting place before midnight on Halloween. Along the way, the team narrowly escapes a nefarious group of criminals intent on selling the mummy to the highest bidder. When Harold is inevitably captured, Marshall, Gilbert, and Amy must band together to stand up to the criminals, face their fears and rescue their new friend.
The new Under Wraps is directed by Alex Zamm (R.L. Stine's The Haunting Hour: Don't Think About It, Beverly Hills Chihuahua 2), written by Zamm and William Robertson (Inspector Gadget 2, Woody Woodpecker), based on the original movie written by Don Rhymer.
You're invited to join us for the official Under Wraps virtual premiere event on Thursday, Sept. 30, at 6:00 p.m. PT/9:00 p.m. ET, featuring live Halloween-themed "trick or trivia" with members of the cast and an advance screening of Under Wraps. It's all free and online. You just have to CLICK HERE to RSVP by Friday, Sept. 24.
After submitting your RSVP, you will receive an email with additional information, including the link to join the premiere event. Virtual spots are limited, so be sure to RSVP today!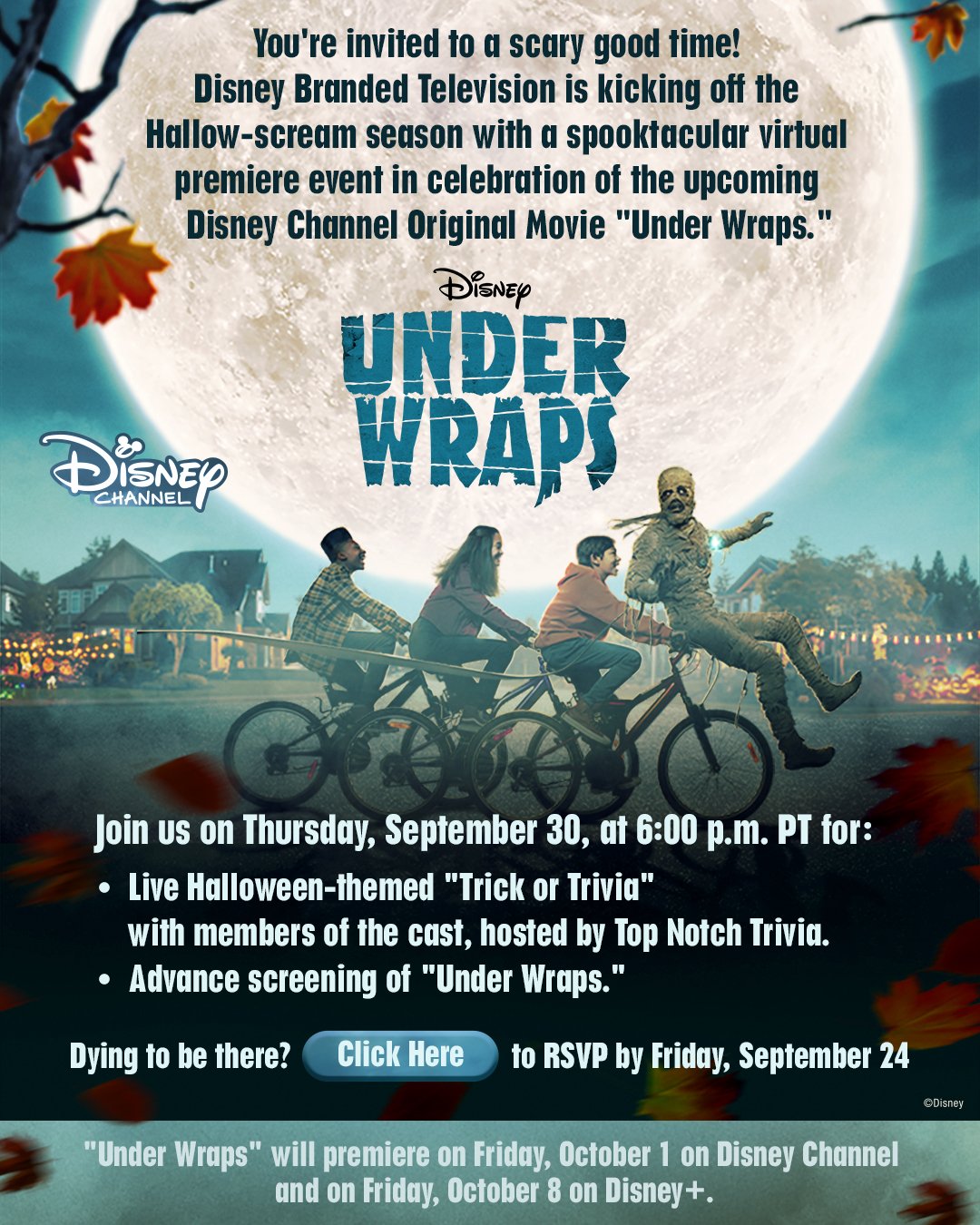 Under Wraps will premiere on October 1 on the Disney Channel, and then on October 8 on Disney+.
You can watch the official trailer for the new Under Wraps below.
For more Halloween news, follow @HalloweenDaily.