Ghostface is Back in 'Scream' 2022 Featurette with New Footage
Ghostface is back in the upcoming fifth Scream movie, and a new behind the scenes featurette was released online today featuring new footage and comments from the returning legacy cast members and the new residents of Woodsboro.
In the featurette, which you can watch below, Courteney Cox teases, "Ghostface is back and scary as ever." She later adds, "There are things that happen in this that are kind of shocking. I still can't believe it."
In the film, the new character Sam Carpenter, played by Melissa Barrera, is targeted by a Ghostface killer and seeks out Dewey Riley, once again played by David Arquette, for help.
A new poster was also recently unveiled, featuring Ghostface's favorite target Sidney Prescott reflected on the knife blade.
The official synopsis: Twenty-five years after a streak of brutal murders shocked the quiet town of Woodsboro, a new killer has donned the Ghostface mask and begins targeting a group of teenagers to resurrect secrets from the town's deadly past
The cast includes Neve Campbell reprising her role as Sidney Prescott, as well as David Arquette and Courteney Cox reprising their roles as Dewey Riley and Gale Weathers, respectively, along with new additions Melissa Barrera (In The Heights), Jenna Ortega (You), Jack Quaid (The Boys), Dylan Minnette (13 Reasons Why, Goosebumps, Don't Breathe), Mason Gooding (Booksmart), Sonia Ammar, Kyle Gallner (A Nightmare on Elm Street 2010), Jasmin Savoy Brown (The Leftovers), and Mikey Madison (Once Upon a Time… In Hollywood). Marley Shelton (Sin City, Planet Terror) is also back, reprising her role as Woodsboro Deputy (now Sheriff) Judy Hicks from 2011's Scream 4.
The new Scream is directed by Matt Bettinelli-Olpin and Tyler Gillett of the filmmaking group Radio Silence (Ready or Not, V/H/S) from a screenplay by James Vanderbilt (Murder Mystery, Zodiac, The Amazing Spider-Man) and Guy Busick (Ready or Not, Castle Rock). Creator Kevin Williamson and the third member of the Radio Silence trio, Chad Villella, are executive producing with Project X Entertainment's Vanderbilt, Paul Neinstein, and William Sherak serving as producers.
Paramount Pictures and Spyglass Media Group will release Scream in theaters on January 14, 2022.
You can watch the new featurette and see the latest official poster below.
Watch our Scream trailer breakdown and discussion here.
See all of our Scream 2022 coverage here!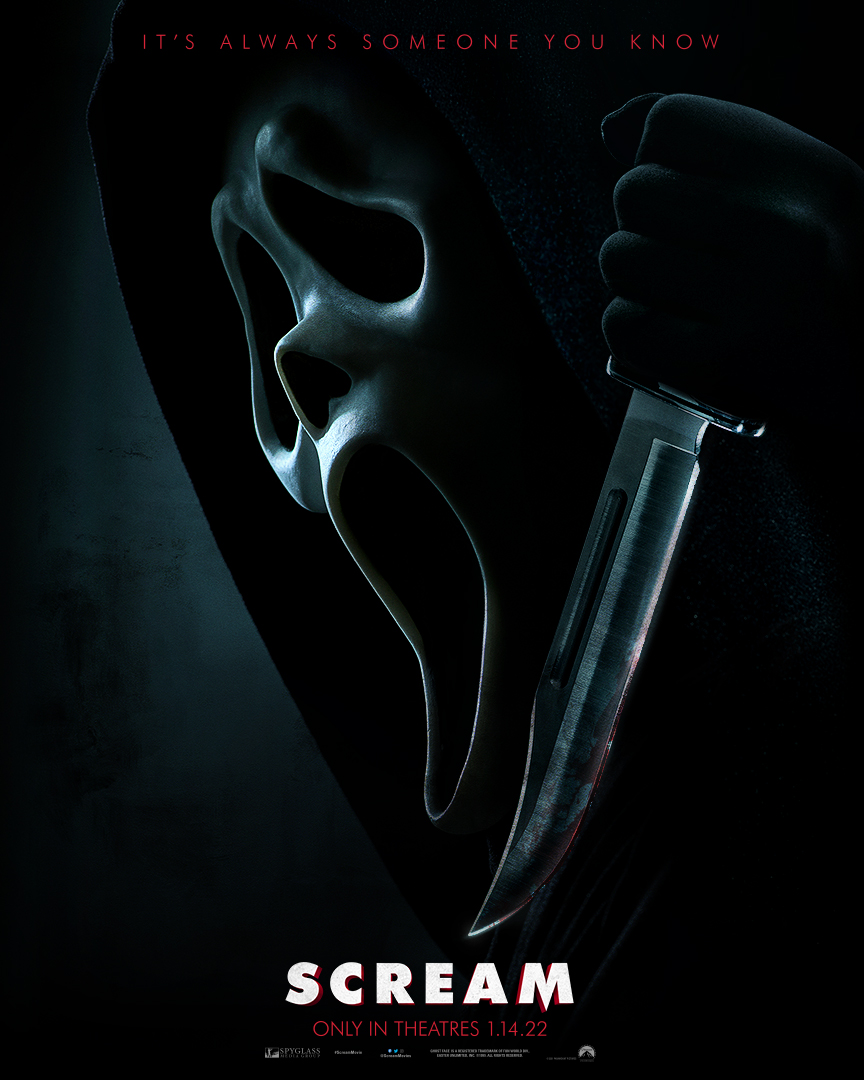 For more Halloween news, follow @HalloweenDaily.