Spirit Halloween Announces First New 2022 Animatronic Special Releases
Spirit Halloween has already unveiled two new for 2022 animatronics that are now available to order online, including a the Soothsayer Witch and the mad scientist Dr. Illume.
Check out the new additions below, both of which were originally scheduled for release in 2021 but were delayed due to shipping issues.
The good doctor had the perfect life with a lovely wife, two adorable children, a nice house, and a thriving practice. Unfortunately, this good doctor spent his time cheating his patients by making their prescriptions in his home lab. When his nurse found out, he went mad with fear and swallowed all of his latest concoction to spare his family from the truth – but the results of this experiment turned out much, much worse. 
Standing at 5.6 feet tall, the Dr. Illume animatronic features green glowing LED eyes, gurgling screams, and a rocking torso that will terrify any guests who enter your lair this Halloween!
In stock now and shipping now, you can order Dr. Illume for $219.99 here.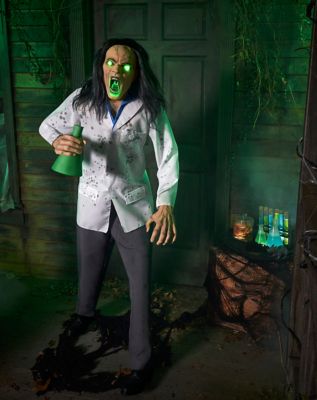 You're frozen in fear as you stand before the Soothsayer Witch. Her haunting words draw you in close, cascading down your spine and causing your hair to stand on end. She sees your future, and it's nothing but a desolate cavern where your hopes once lived. In a horrible whisper, she warns of evil forces that crave your soul with ferocious hunger.
Her rotting teeth and decaying fingernails are impossible to ignore as her wart-covered jaw moves and her claw-like hand waves slowly back and forth. In her other hand, she clutches a mysterious color-changing globe. It's mesmerizing, but something tells you not to stare at it for long. Its purpose is malicious, and you can feel the wicked energy that it draws in like a magnet. You want nothing more than to escape, but your body remains still. Rigid.
Standing at 5.7 feet tall, the Soothsayer Witch animatronic features Digiteyes technology that gives her eyes an ominous glow, as well as a tattered shawl draped loosely over her floor-length brown robe. Her head, jaw, and arms move with frighteningly realistic precision, as she utters five chilling phrases that will haunt you in your slumber.
In stock and shipping now, you can order the Soothsayer Witch for $299.99 here.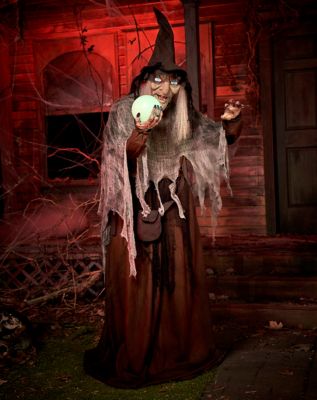 See all of our Spirit Halloween 2022 coverage here!
*Paid links: We may earn a commission from purchases made through links in this article, which helps support the continued operation of Halloween Daily News.
For more Halloween news, follow @HalloweenDaily