'Texas Chainsaw Massacre' Poster Reveals Leatherface's New Mask
Legendary Pictures' new Texas Chainsaw Massacre movie is coming next month, featuring the return of Leatherface, and a brand new official poster has been released, giving us our best look yet at the iconic killer's new mask.
Look for a new official trailer this Monday, January 31.
A direct sequel to Tobe Hooper's 1974 classic The Texas Chain Saw Massacre left off, here's the film's synopsis: After nearly 50 years of hiding, Leatherface returns to terrorize a group of idealistic young friends who accidentally disrupt his carefully shielded world in a remote Texas town. Melody (Sarah Yarkin), her teenage sister Lila (Elsie Fisher), and their friends Dante (Jacob Latimore) and Ruth (Nell Hudson), head to the remote town of Harlow, Texas to start an idealistic new business venture. But their dream soon turns into a waking nightmare when they accidentally disrupt the home of Leatherface, the deranged serial killer whose blood-soaked legacy continues to haunt the area's residents — including Sally Hardesty (Olwen Fouéré), the sole survivor of his infamous 1973 massacre who's hell-bent on seeking revenge.
The film is directed by Emmy Award-winning filmmaker David Blue Garcia (Tejano) and written by Chris Devlin. Fede Ávarez (Evil Dead, Don't Breathe) is producing with Bad Hombre's Rodolfo Sayagues, alongside Kim Henkel (co-writer of the original 1974 film), Ian Henkel, and Pat Cassidy, who are producing via their Exurbia Films.
The cast includes Golden Globe nominee Elsie Fisher (Castle Rock), Sarah Yarkin (Happy Death Day 2U), Mark Burnham (Wrong Cops), Moe Dunford (The Dig), Olwen Fouéré (Mandy), Alice Krige (Star Trek), Jacob Latimore (The Maze Runner), Nell Hudson (Victoria), Jessica Allain (The Laundromat), Sam Douglas (Snatch), William Hope (Dark Shadows), and Jolyon Coy (War & Peace).
Mark Burnham (Lowlife) is our new Leatherface (originally played by Gunnar Hansen), and Olwen Fouéré (Mandy) plays another returning legacy character for the 1974 film, playing Sally Hardesty (originally played by Marilyn Burns). John Larroquette also returns to once again provide the opening narration, as he did for the 1974 original and its 2003 remake.
This will be the ninth film in the iconic Chainsaw franchise.
Texas Chainsaw Massacre will premiere on Netflix on Feb. 18, 2022.
You can see the new official poster below.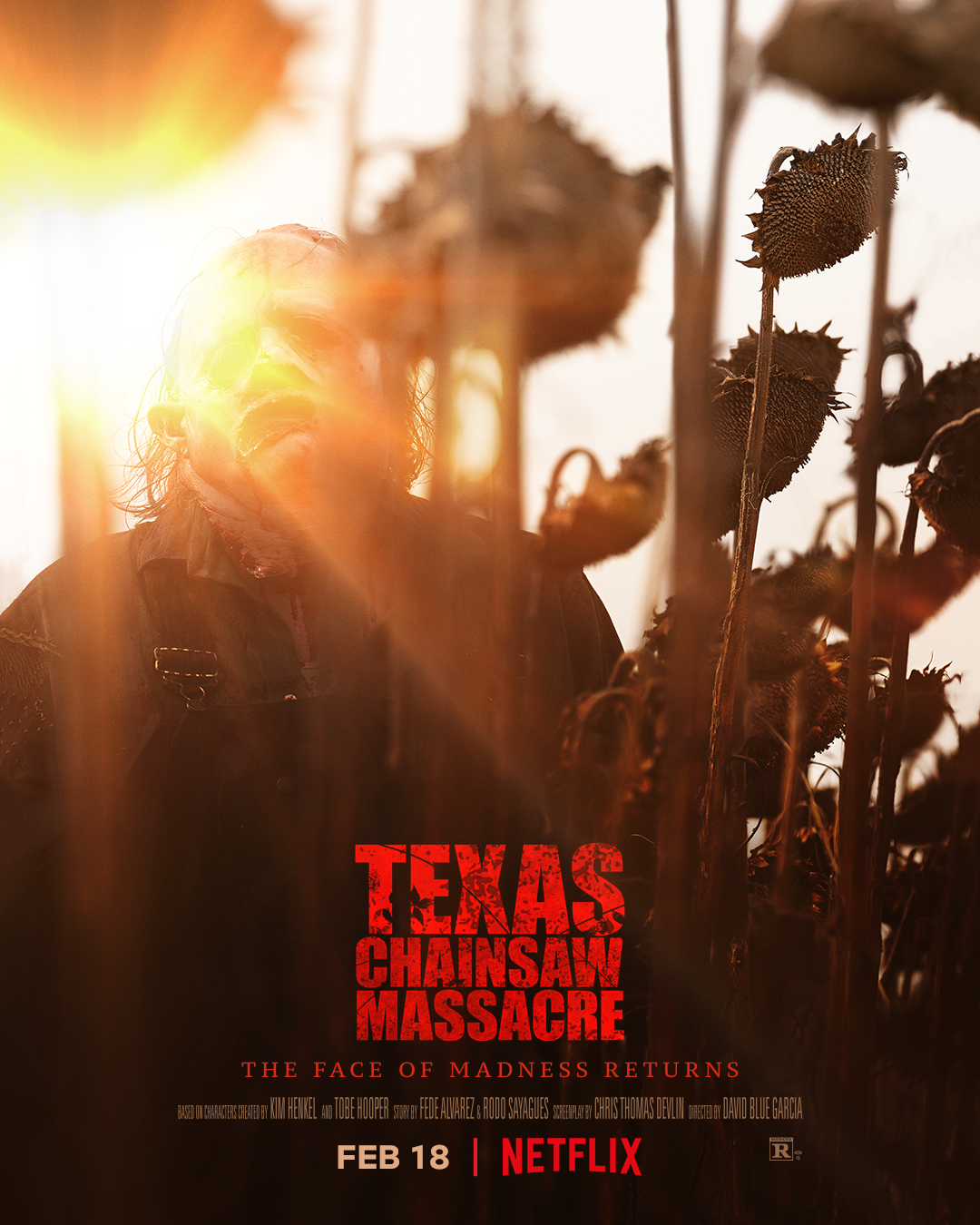 For more Halloween news, follow @HalloweenDaily.