Spirit Halloween Releases New 2022 Animatronic on Valentine's Day
Spirit Halloween surprised us all this week with the release of another new 2022 animatronic, a zombie named Gerry.
Spirit has already unveiled a number of new animatronics for this year that are also now available to order online.
The official backstory for Gerry presented on Spirit's website says: Gerry is not a great guy. He cheated at poker, stole from the grocery store, and lied to his boss. One Halloween night, Gerry came home, after a full day of stealing candy from trick o' treaters to find the power shut off and the house cold. He stumbled over to the old woodpile and grabbed the ax, but when he took the first swing, he slipped on a stray candy wrapper and was never the same. Now Gerry wanders these country roads writhing in pain, looking for someone to finish the job . . . or some candy.
Standing at 5.4 feet tall, the Gerry animatronic features yellow glowing LED eyes, gurgling moans, and a moving upper body that rocks left and right.
In stock now and shipping now, you can order Gerry for $199.99 here. You can watch him in action below.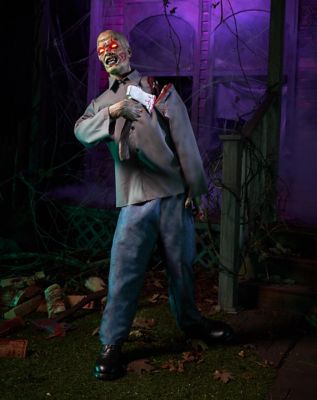 See all of our Spirit Halloween 2022 coverage here!
*Paid links: We may earn a commission from purchases made through links in this article, which helps support the continued operation of Halloween Daily News.
For more Halloween news, follow @HalloweenDaily