Tim Burton's 'Beetlejuice 2' Starring Michael Keaton, Jenna Ortega Now Filming
After years of rumors, speculation, and hopes from fans, Warner Bros. Pictures has officially announced a theatrical release date for a sequel to the 1988 horror comedy classic Tim Burton film Beetlejuice, with Michael Keaton back to reprise his role as the title character and Jenna Ortega (Wednesday, Scream, Scream VI, X) also leading the cast, and, even more exciting, filming of Beetlejuice 2 started today.
The news broke on Tuesday that Beetlejuice 2, directed by Tim Burton, will open in theaters on September 6, 2024, effectively kicking off next year's cinematic Halloween season, with production beginning today (5/10/23) in London.
Michael Keaton has been confirmed to be reprising the title role, and Winona Ryder is also back as Lydia Deetz, the central character she played in the first movie. Jenna Ortega will play Lydia's daughter in the sequel. While we have no word yet on any other returning cast or characters, Justin Theroux has joined the cast in an as-yet-unknown role.
We also know that Wednesday and Smallville series creators Al Gough and Miles Millar, who worked with Burton and Ortega on that massively successful Addams Family show for Netflix, wrote the screenplay, and Brad Pitt's Plan B is producing.
UPDATE: Danny Elfman has also previously indicated that he is returning to compose the sequel's soundtrack, as he did for the original and so many other Burton collaborations.
UPDATE 5/11/23: THR reports that Monica Bellucci (Brotherhood of the Wolf, Spectre, The Matrix Reloaded and Revolutions), who memorably portrayed one of Dracula's brides in France Ford Coppola's 1992 Dracula movie, is in negotiations to join the cast of Beetlejuice 2, in which she will reportedly play Beetlejuice's wife.
UPDATE 5/12/23: Catherine O'Hara has now been confirmed to be returning as Lydia's mom, Delia Deetz, and Willem Dafoe has joined the cast, reportedly playing a law enforcement officer in the afterlife.
In the original film, a recently deceased married couple, Barbara and Adam Maitland (played by Geena Davis and Alec Baldwin) are impossibly irked by the eccentric new family (played by Catherine O'Hara and Jeffrey Jones, with Ryder as their teenage daughter) that moves into their home. So they contact "bio-exorcist" Beetlejuice, a devious ghost from the Netherworld, who promises to help the Maitlands haunt the house's new inhabitants out of their home.
*Paid links: We may earn a commission from purchases made through links in this article, which helps support the continued operation of Halloween Daily News.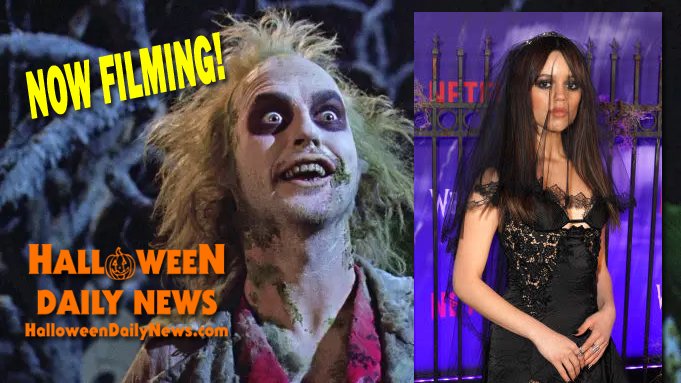 For more Halloween news, follow @HalloweenDaily