Scares That Care Charity Weekend 2021 Returns to Virginia
The 7th Scares That Care Charity Weekend returns to Williamsburg, Virginia this summer for three days of horror fun, all to benefit a truly great cause.
Scares That Care is an all volunteer charity, where net proceeds from all organization events are provided to the recipients selected. Founded in 2006, "Scares That Care!" to date has raised and donated over $250,000 to organizations that treat sick children and families with a child affected by illness, burns, or women fighting breast cancer.
Celebrity guests that will be at the 2021 Scares That Care Weekend include P.J. Soles (Halloween, Halloween 2018, Carrie), Tom Atkins (Halloween III: Season of the Witch, The Fog, Creepshow), Samm Todd (Trick 'r Treat), Al Leong (Big Trouble in Little China, Die Hard), Vanessa Angel (Kingpin, Weird Science), Billy Zane (Tales from the Crypt: Demon Knight, Titanic), Bai Ling (The Crow), Tracie Thoms (Death Proof), Jeanninee Taylor (Friday the 13th), Mark Patton (A Nightmare on Elm Street 2), Tuesday Knight (A Nightmare on Elm Street 4), Lisa Wilcox (A Nightmare on Elm Street 4 and 5), Miko Hughes (Wes Craven's New Nightmare, Pet Sematary), Jeffrey Voorhees (Jaws), Taryn Manning (Orange is the New Black, Karen), Jeff Kober (The First Power, The Walking Dead), Pruitt Taylor Vince (Identity, Constantine), Michael Pare (Eddie and the Cruisers, Village of the Damned), Diane Franklin (Better Off Dead, Bill and Ted's Excellent Adventure), Jonathan Fuller (Castle Freak), John Anderson (Stranger Things), Ed O'Ross (The Hidden), Felissa Rose (Sleepaway Camp), and horror host Count Gore de Vol.
In addition to the celebrity guests, there will also be over a dozen genre authors in attendance, plus two floors of merchandise vendors, readings, seminars, a themed 5K run for adults and kids, as well as makeup wars at 7pm on Friday, trick or treating 1-3pm on Saturday and the annual costume contest at 8pm on Saturday night.
Scares That Care Charity Weekend 7 is happening July 30-August 1, 2021 at the Double Tree by Hilton in Williamsburg, VA. Tickets are available here.
Halloween Daily News is excited to be a part of this great event again this year, as we will be there all three days to provide complete coverage of the entire weekend.
See our coverage of Scares That Care 2019 here.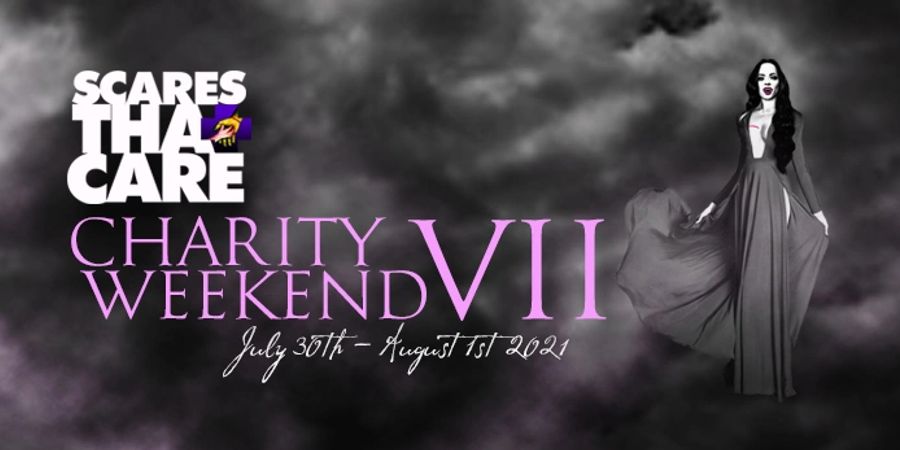 For more Halloween news, follow @HalloweenDaily.