Motion Activated Sitting Scarecrow Animatronic Returns to Spirit Halloween for 2021
Spirit Halloween has just barely begun to unveil all of their new 2021 animatronic releases, but a few returning favorites coming back to the seasonal stores this year have already been confirmed, including the popular motion-activated Sitting Scarecrow animatronic, and he's available to order online now!
Produced by Tekky, the Sitting Scarecrow animatronic was first released as a Spirit Halloween exclusive back in 2016, and has routinely returned multiple years since.
At 4.5 feet tall, this resting scarecrow seems to be sleeping, but when someone reaches for the candy in his lap, his head pops up and he screams and laughs, perfect for scaring trick-or-treaters. It includes a candy bowl, power adapter, and instruction manual.
You can read more specs, see photos, and watch the Sitting Scarecrow in action in the video below. Priced at a newly reduced price of $99.99 ($60 cheaper than previous years) and currently shipping now, you can buy it here.
*Paid links: We may earn a commission from qualifying purchases made through affiliate links in this article, which helps to support the continued operation of Halloween Daily News.
4.5 Ft. Sitting Scarecrow Animatronic
    Animated
    Motion/sound activated
    Adapter Type: 6V/2A (included)
    Battery type: 4 AA (not included)
    Cord Length: About 6 feet
    Volume control included
    Compatible with multi-prop remote activator (sold separately)
    Dimensions: 54"H X 15"L X 17"W
    Weight: 6 pounds
    Material: Fabric, electronic
    Spot clean
    Imported
    Note: Recommended for display in covered area
See all of our Spirit Halloween 2021 coverage here!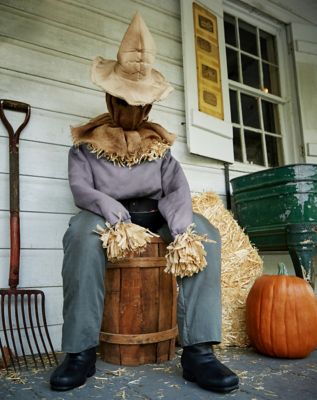 For more Halloween news, follow @HalloweenDaily.