Spirit Halloween's Uncle Charlie Animatronic Back for 2021 Online Only
After being teased with numerous hints in recent weeks, a subscriber email from Spirit Halloween today has confirmed that the Uncle Charlie animatronic is back for 2021, not in stores but available online only now.
Produced by Seasonal Visions International (SVI), the Uncle Charlie animatronic was first released by Spirit Halloween back in 2010, and was then brought back with a few upgrades for a 10th anniversary relaunch in 2020.
At 6.3 feet tall, Spirit's story for Charlie says, "The world's most mischievous clown is back! After a long time stuck touring the sideshow circuit, Uncle Charlie has finally returned to the big top with enough candy for anyone who loves a good scare. Don't worry, though, his routine is still killing it – literally."
Holding his bloody "free candy" bucket, this 10 year anniversary re-launch features light-up eyes and a moving mouth, as his head turns from side to side, and creepy sounds surround him.
You can read more specs, see photos, and watch Uncle Charlie in action in the video below. Priced at $209.99 and currently shipping now, you can buy it here.
Spirit Halloween's mysterious Graveyard Shift countdown concludes at 11:00 a.m. (ET) on Thursday morning, July 15, at which time we're expecting some major reveals. Be sure to join us for a special HDN LIVE Spirit Halloween 2021 Graveyard Shift Reveals Discussion and Breakdown at 3:01 p.m. on Thursday, July 15, here.
*Paid links: We may earn a commission from qualifying purchases made through affiliate links in this article, which helps to support the continued operation of Halloween Daily News.
6.3 Ft. Uncle Charlie Animatronic
Animatronic
Candy Bucket
Instruction manual
Volume control
External speaker jack
Adapter

Product Sayings:

"Step right up! The first to live an hour inside wins a prize! *creepy laugh*"
"Come here! Take a little bite. You know you want to…"
"Dont worry. Clowns scare me too…*creepy laugh*"
"Want a little candy? Come on, I won't hurt you…much"
"It's all fun and games until someone loses their soul!"

Animated
IR sensor activated
Step pad compatible
Multi-prop remote activator compatible
Try me button compatible
Adapter Type: 5.9V 1.5A (included)
Cord Length: 9.8 feet
Dimenisons: 76″ H x 27.5″ W x 35″ D
Weight: About 15.75 pounds
Candy Bucket Weight Capacity: Holds up to 1.1 pound
Material: Metal, plastic, fabric, electronics
Care: Spot clean
Imported
Note: Recommended for use in covered areas
See all of our Spirit Halloween 2021 coverage here!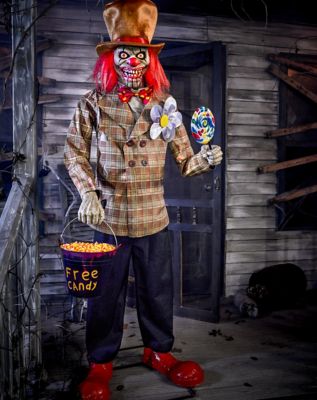 For more Halloween news, follow @HalloweenDaily.