Spirit Halloween's Nightcrawler Animatronic is Back for 2021
Spirit Halloween revealed another returning animatronic this week, with the creepy, spider-like Nightcrawler back again for 2021.
Tossed to the streets by deadbeat parents when just a teen, Nightcrawler learned how to live in the shadows, fend for itself and make friends with the denizens of the night. Years of crouching in the darkest corners of society permanently changed him into a crawling monster that only emerges at night when the sun doesn't burn its pale skin, and Nightcrawlers's beady eyes can find its feast for the night. Lock up your pets – and yourself!
First released in 2020, the Night Crawler animatronic has red light-up eyes and moves its body from side to side, as its head pops up for a startling scare.
Standing 3.5 feet tall, available exclusively from Spirit Halloween and shipping now, you can order Nightcrawler for $199.99 here.
See all of our Spirit Halloween 2021 coverage here!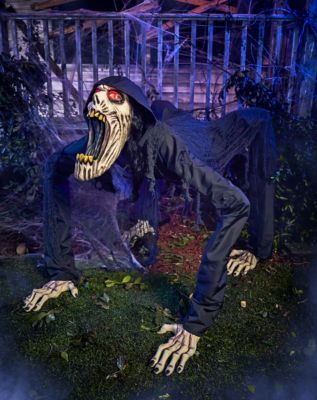 Check him out in action in the video below!
*Paid links: We may earn a commission from purchases made through links in this article, which helps support the continued operation of Halloween Daily News.
For more Halloween news, follow @HalloweenDaily.